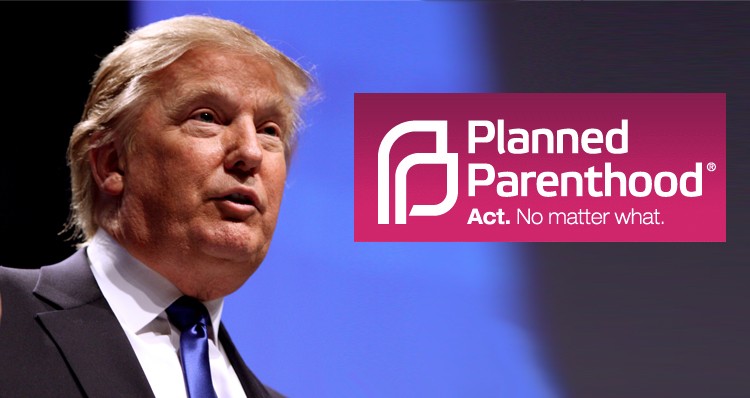 Conservatives have launched a series of attacks on Planned Parenthood in the wake of the anti-abortion group Center for Medical Progress' release of heavily edited videos showing doctors discussing the sale of fetal body parts
Republicans in Congress were unsuccessful in their bid to defund Planned Parenthood last week when "Senate Democrats succeeded in stopping the bill on a procedural vote. Sixty votes were needed to advance it in the 100-person chamber. It received 53 votes, with 46 senators opposing it."
The Republican presidential hopefuls are weighing in on the issue as well.
Louisiana Governor Bobby Jindal led his state to cut funding of Planned Parenthood, following that failed effort to do so by Congress.
Wisconsin Governor Scott Walker pointed out during the recent Fox News debate that he "defunded Planned Parenthood more than four years ago, long before any of these videos came out."
Following suit, Jeb Bush explained that "As governor of Florida I defunded Planned Parenthood. I created a culture of life in our state."
Former Arkansas Governor Mike Huckabee said that he would use the Justice Department to "criminally prosecute" Planned Parenthood if elected president.
Carly Fiorina, the only woman in the Republican race, said on CBS the group should be "defunded immediately," as did Rand Paul, Ted Cruz, and all of the other of the 17 contenders for the 2016 Republican presidential nomination that weighed in on the issue with one glaring exception – Donald Trump.
As Life News reported earlier this week, "Tuesday morning on CNN, Trump said he supported de-funding the abortion aspects of Planned Parenthood but thought funding for non-abortion components ought to remain — which had pro-life advocates concerned he would leave the status quo of $550 million in taxpayer funding in place."
Speaking with Chris Cuomo on CNN's New Day, Trump stated that "The problem that I have with Planned Parenthood is the abortion situation. It is like an abortion factory, frankly. And you can't have it. And you just shouldn't be funding it. That should not be funded by the government, and I feel strongly about that." However, when asked about whether he supported funding for other services provided by Planned Parenthood, trump responded:
What I would do when the time came, I'd look at the individual things they do, and maybe some of the individual things they do are good. I know a lot of the things are bad. But certainly the abortion aspect of it should not be funded by government, absolutely. I would look at the good aspects of [Planned Parenthood], and I would also look, because I'm sure they do some things properly and good and that are good for women, and I would look at that, and I would look at other aspects also. But we have to take care of women.
Then on Wednesday, Trump appeared on the Sean Hannity Show and explained that abortion was only a small part of the services offered by Planned Parenthood. Asked by Hannity if Planned Parenthood should receive any taxpayer money, Trump responded:
TRUMP: Let's say there's two Planned Parenthoods, in a way. You have it as an abortion clinic. Now, that's actually a fairly small part of what they do, but it's a brutal part, and I'm totally against it, and I wouldn't do that. They also, however, service woman, and one of the things that I thought was so terrible, when Jeb Bush…when he talked about women's health issues, he was so bad. I mean, it's like, what is he doing? We have to help women. A lot of women are helped. So, we have to look at the positives, also, for Planned Parenthood. You know, even a guy like you, you may be convinced that it does some positive things. I would look at it very strongly. We have to help women. As far as the abortion stuff, absolutely un –.

HANNITY: But if they are doing abortions, then they can allocate their other resources to other things. … why should the taxpayers pay for an organization that — ?

TRUMP: Maybe unless they stop with the abortions, we don't do the funding for the stuff that we want. There are many ways you can do that, Sean, because I'm totally against the abortion aspect of Planned Parenthood, but I've had many women, I've had many Republican, conservative women come up and say Planned Parenthood serves a good function, other than that one aspect.
Planned Parenthood applauded Trump's remarks as reported by The Daily Beast.
"Donald Trump seems to have realized that banning all abortions, shutting down the government, and defunding Planned Parenthood are extreme positions that are way too far outside the mainstream for even him to take," said spokesman Eric Ferrero in a statement, adding "We hope that the rest of the GOP field will wake up and reconsider their extreme and unpopular positions on defunding preventive care, abortion bans, and the other economic issues that women and their families care about."
As The Daily Beast concluded: "Trump is Planned Parenthood's favorite Republican presidential candidate right now (or their least un-favorite)."
(Visited 34 times, 1 visits today)