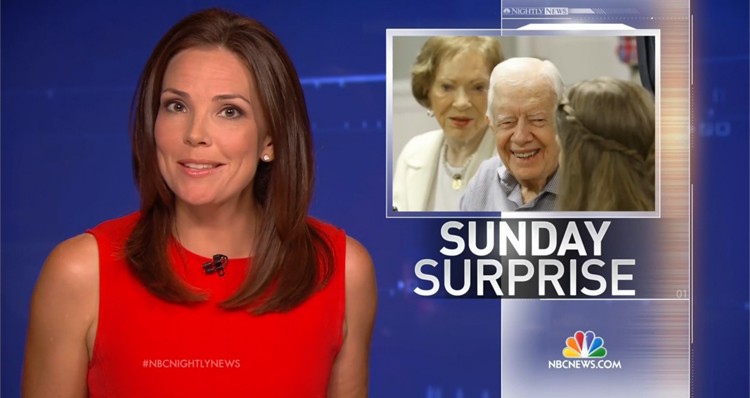 Four days after announcing he has cancer, former President Jimmy Carter attended a worship session in his hometown of Plains, Georgia — his first public appearance since telling the world of his illness.
WSB-TV Atlanta reports that Carter showed up at the Mranatha Baptist Church in Plains, Georgia, a little over an hour before the 11 a.m. worship service.
Accompanied by his wife, Rosalynn, they exhanged long hugs and chatted with many of the approximately 30 church members who'd shown up for this week's lesson held in an annex room. Then they settled into a pair of folding chairs to take part in the class that this week was being taught by their niece, Kim Fuller, another longtime Maranatha member whose father was Billy Carter.
"He looked really good," said Fuller in a statement to NBC News, adding that Carter is set to teach Sunday school next weekend. "He's just like every other church member."
Before heading into the sanctuary for the worship service, Carter greeted a reporter confirming Fuller's statement, saying: "I'll be teaching Sunday School next week."
According to WSB-TV, "As many as 350 visitors have been known to show up when President Carter teaches Sunday School, causing the classes to be held in Maranatha's main sanctuary."
You can watch a news clip from NBC News, below:
(Visited 39 times, 1 visits today)