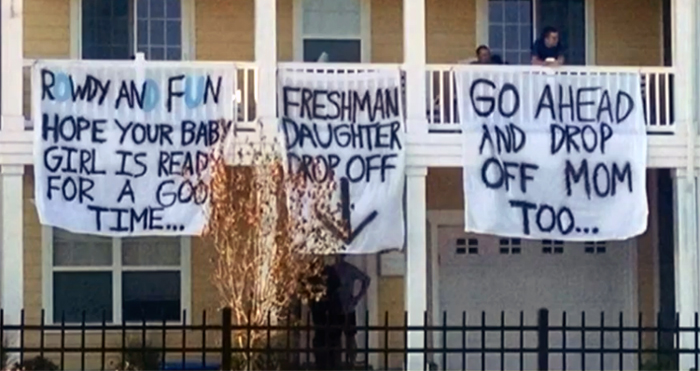 Students and staff of Old Dominion University in Norfolk, Virginia, are "outraged" after several vulgar signs directed at incoming female students and their mothers were draped from nearby off-campus houses.
Fox 32 reported that "The bawdy banners were handwritten on what looked like large, white bed sheets and hung from porch ledges of private housing near the Norfolk campus."
The banners targeted incoming female freshman and read: "Rowdy And Fun! Hope your baby girl is ready for a good time," "Freshman daughter drop off" and "Go ahead and drop off mom too."
University President John R. Broderick posted his outrage in a Sunday morning Facebook post, writing in part:
I am outraged about the offensive message directed toward women that was visible for a time on 43rd Street. Our students, campus community and alumni have been offended.

While we constantly educate students, faculty and staff about sexual assault and sexual harassment, this incident confirms our collective efforts are still failing to register with some.

[…]

I said at my State of the University address that there is zero tolerance on this campus for sexual assault and sexual harassment. This incident will be reviewed immediately by those on campus empowered to do so. Any student found to have violated the code of conduct will be subject to disciplinary action.
Then early Monday evening, the Old Dominion University Facebook page posted the following message which accompanied a photograph of a letter from the Sigma Nu Fraternity – who appear to have been the offending culprits behind the banners:
We thank the national organization of Sigma Nu for partnering with Old Dominion University in making a strong statement that the behavior of a few student members will not be tolerated by announcing the suspension of their local chapter's activities.
The letter, a "Statement from Brad Beacham, Signa Nu Fraternity Executive Director" read:
Sigma Nu Fraternity has suspended the activities of the Eta Chi Chapter at Old Dominion University pending completion of an investigation into offensive banners displayed from an off-campus, privately-owned property near the ODU campus last week. The Fraternity condemns the derogatory and demeaning language used on the banners. such language has no place in our Fraternity or within any caring community, such as that of ODU. Any Fraternity member found to be responsible for this reprehensible display will be held accountable by the Fraternity.

Initial reports regarding the banners indicated that no Fraternity member had involvement with the banners. However, additional information received by the Fraternity today indicates that some chapter members may have had involvement with the banners. Upon completion of its investigation, the Fraternity will take action in accordance with its principles and code of conduct.

The Fraternity will remain in close communication with ODU administrators throughout its investigation and review.
You can watch a news clip from NBC News, below:
(Visited 12 times, 1 visits today)