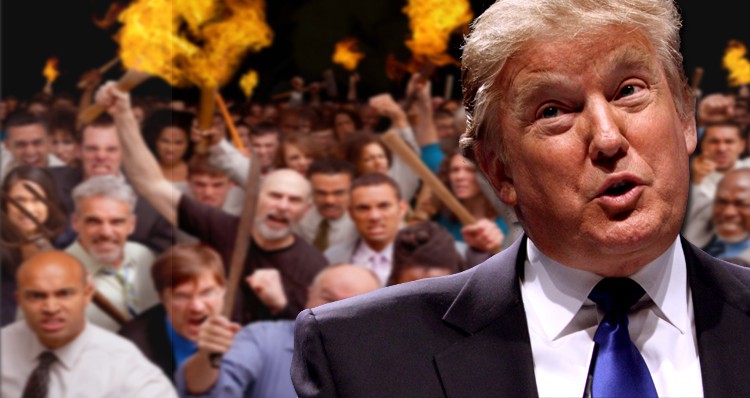 While Republicans were on a feeding frenzy, doing their best to defund and discredit Planned Parenthood, Donald Trump was defending the organization in two interviews. In the first with Chris Cuomo on CNN's New Day, Trump said that he supported funding services provided by Planned Parenthood other than abortions.
As Life News reported, "Tuesday morning on CNN, Trump said he supported de-funding the abortion aspects of Planned Parenthood but thought funding for non-abortion components ought to remain — which had pro-life advocates concerned he would leave the status quo of $550 million in taxpayer funding in place."
Then on Wednesday, Trump appeared on the Sean Hannity Show and explained that "We have to help women. A lot of women are helped. So, we have to look at the positives, also, for Planned Parenthood. You know, even a guy like you, you may be convinced that it does some positive things. I would look at it very strongly. We have to help women."
In an interview released by CBS News on Wednesday, Fiorina stated that "Unfortunately, I think Mr. Trump is taking the Democrat Party's talking points on Planned Parenthood." She went on repeat her displeasure with Trump's position on the organization in a subsequent interview with The Weekly Standard.
Other conservatives, including media figures, were quick to lash out at Trump as well. As Salon reported, "Among the many conservative media figures who lashed out at Trump after these comments on Tuesday morning was Breitbart News' John Nolte. 'Any money given to Planned Parenthood funds abortion' Nolte wrote, 'Period.'"
As The Daily Beast reported earlier this week "While the billionaire's comments have pleased the one side of the debate, they have predictably left pro-life activists angry and frustrated. That's because when pro-life activists talk about defunding Planned Parenthood, they aren't talking about that tiny exception in Medicaid; they're talking about zeroing out all taxpayer dollars that the organization receives. They argue that any dollar that goes to the organization is, ultimately, supporting abortion."
Leading pro-life conservatives were quick to pile on Trump, as reported by The Daily Beast.
"[B]ecause money is fungible, subsidizing any of the operations of the nation's largest performer of abortions (rather than re-routing that money to community health centers not engaged in abortions) is a boon to the merchants of death," wrote Dan McLaughlin at the conservative site RedState.
Mallory Quigley, communications director for the pro-life political group Susan B. Anthony List, echoed McLaughlin's remarks, telling The Daily Beast that "We have always opposed federal funding for Planned Parenthood because they are America's largest abortion business and any dollars that they receive free up other funding, which is available for abortion."
"I'm not quite sure what he was thinking when he said that, to be honest with you," said Kerri Kupec of the conservative Christian group Alliance Defending Freedom, adding "To say, let's keep funding the quote unquote good aspects—why are we making Americans and their hard-earned tax dollars complicit in this gross behavior that Planned Parenthood is engaging in, this callous disregard for human life?"
"All his bankruptcies taught Donald Trump about such cheap accounting tricks," said John Zmirak, a pro-life columnist for the Christian news aggregation site The Stream. "Planned Parenthood is a criminal enterprise with roots in racist eugenics. If Trump wants taxpayers to subsidize their baby organ profiteering, he should be man enough to admit it."
Prominent pro-life activist and head of the group Live Action, Lila Rose, said that "Trump's vacillation on Planned Parenthood funding is deeply troubling, and reveals an ignorance about their horrific abortion practices."
Bob Vander Plaats, an influential Iowa social conservative who heads The Family Leader, said "It's a little bit like a boys and girls home family services-type-deal that, well, we've discovered that these boys and girls are being physically abused, but hey, they're all getting their GEDs, so let's keep funding them getting their GED," adding: "No, if you're doing wrong, you're doing wrong. And you don't get funded by the government for doing wrong."
(Visited 34 times, 1 visits today)