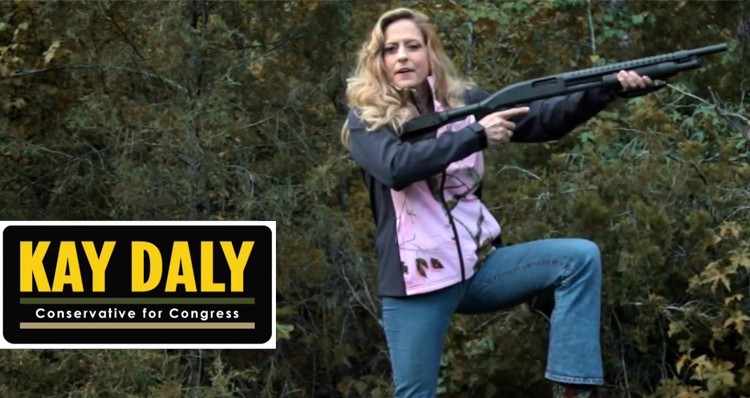 While the nation's attention is turned toward the Republican presidential clown car, believe-it-or-not, there are things happening at the state level that are even more bizarre.
Take for example North Carolina's Republican primary where the most bizarre campaign ad of the primary season we discovered by Mother Jones.
As Mother Jones reported, "When Rep. Renee Ellmers (R-N.C.) defeated an incumbent Democrat five years ago by accusing him of supporting a 9/11 "victory mosque" in Lower Manhattan, she probably didn't expect to find herself in the crosshairs of tea party activists anytime soon"
But since coming to Washington after an upset victory in the 2010 Republican landslide, she's dabbled in moderation. In just the last year, Ellmers voted against a bill that would have prohibited abortions after 20 weeks, and she opposed repealing President Barack Obama's executive orders on immigration. In 2014, she won a tough primary but cruised to victory against Democratic nominee (and American Idol contestant) Clay Aiken. In an act of heresy for a former tea party star, she's gone on record defending so-called RINOs—short for "Republican in Name Only."
Enter North Carolina conservative activist Kay Daly, who began airing the ad during the second Republican debate. As Salon reports, "The 30-second jampacked ad is a doozy, complete with gratuitous swipes at feminists, same-sex couples, and undocumented immigrants but it's target is embattled North Carolina Rep. Renee Ellmers."
Referring to Ellmers, the ad says that "this feminist" is a RINO – Republican In Name Only and features "a number of unflattering photos and screengrabs of Ellmers, while running down a litany of her alleged heresies," as reported by Salon.
Ellmers, the ad goes on to charge has "voted to let homosexuals pretend they are married" and "voted to fund Obamacare and to raise the debt ceiling twice to pay for abortions in D.C. and fund Planned Butcherhood." The ad also charges Ellmers "voted to let convicted child molesters stay in America."

At the end, Daly appears with a shotgun and turns to the camera to declare, "I'm hunting for RINOS" before asking, "care to join me?"
You can watch this wild campaign ad, below:
(Visited 10 times, 1 visits today)