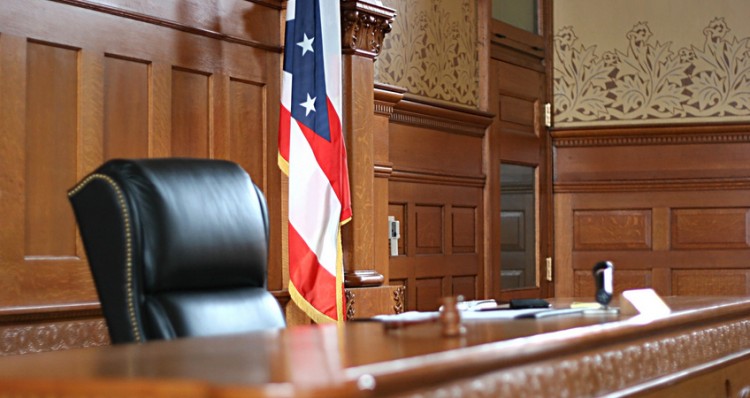 In a lame attempt to justify their bigotry, conservatives are concocting more right-wing lies to mislead the public. The conservative website The Federalist is making the false allegation that the "Kim Davis Uproar Shows That Breaking The Law Is Only Okay When Progressives Do It."
BACKGROUND:
Media Matters reported in April 2014 that: "As the online news and commentary landscape continues to expand, the nascent conservative web magazine The Federalist has quickly carved out a role as a brash, anti-establishment site," adding that "It has also become an outlet for often-rabid anti-LGBT talking points."
Launched in September 2013 as a "web magazine on politics, policy, and culture," The Federalist is helmed by publisher Ben Domenech, a co-founder of the right-wing blog RedState.com and senior fellow at the Heartland Institute, a conservative think tank known for its opposition to climate science and funding from industry sources like the Koch brothers. Co-founder Sean Davis came to conservative journalism after a career in GOP politics, having worked for Gov. Rick Perry (R-TX) and Sen. Tom Coburn (R-OK)
THE ALLEGATION:
The Federalist began their article stating that "this week's edition of Internet outrage theater is Kim Davis, a Democratic clerk in Kentucky who is refusing to issue marriage licenses to gay couples," adding that "[Davis] says her religious beliefs prohibit her from rubber-stamping applications for same-sex marriage licenses."
The article then went on to make their case:
Davis's arrest was met with cheers by same-sex marriage advocates who for some reason did not demand imprisonment of officials who lawlessly issued gay marriage licenses in clear contravention of state and federal laws. Take, for example, Democrat Gavin Newsom, who is currently the California lieutenant governor. Back in 2004, when gay marriage was banned under California state law, Newsom openly defied the law and used his power as the mayor of San Francisco to force taxpayer-funded government clerks to issue gay marriage licenses.

Just like Kim Davis, who is an elected Democrat, Newsom justified his lawlessness by citing his own conscience and beliefs about right and wrong rather than deferring to the actual laws of his state.

If you look for evidence of gay rights advocates chastising Newsom for his blatant lawlessness, you won't find it. Because it doesn't exist. [emphasis added]
THE TRUTH:
I.
First of all, gay marriage was not in fact "banned under California state law" in 2004 as the writer of that article claims. Indeed, the legal dispute over the issuance of those marriage licenses to same-sex couples by Newsom led to the 2008 In re Marriage Cases ruling by the California Supreme Court, which legalized same-sex marriage in California. The only time there has ever been a specific ban on gay marriage in California came later in 2008 when the state passed Proposition 8, a state constitutional amendment barring same-sex marriages in the wake of that ruling by the state's supreme court. That ban ended in 2013 with the United States Supreme Court decision in Hollingsworth v. Perry, which restored the effect of a federal district court ruling that overturned Proposition 8 as unconstitutional.
II.
Additionally, Newsom did not attempt to "[justify] his lawlessness by citing his own conscience and beliefs about right and wrong rather than deferring to the actual laws of his state" as claimed by The Federalist.
SF Gate detailed the background of Newsom's decision to order city clerks to issue gay marriage licenses writing that Newsom became inspired to address the issue of gay marriage after attending President George W. Bush's State of the Union Speech on January 20, 2004 as a guest of House Minority Leader Nancy Pelosi. "Newsom listened closely as Bush voiced his strong support for outlawing same-sex marriage — with a constitutional amendment, if necessary."1
Shortly after the speech, Newsom called his chief of staff, Steve Kawa. "He told me that he wanted to do something," Kawa said, and two weeks later at a staff meeting, Newsom announced that he wanted them to explore how the city could begin issuing same-sex marriage licenses.
As SF Gate reported, Newsom specifically looked at the law in reaching his decision. We have taken the liberty of numbering the steps he took for clarity, but the text remains that of SF Gate:
Newsom asked his staff to gather as many legal briefs as they could find.
Within 24 hours, Kawa was on the phone with Kate Kendell, executive director of the National Center for Lesbian Rights, a San Francisco-based public interest legal organization.
That weekend, Feb. 7-8, Kendell got on the phone with other gay rights leaders and lawyers to feel them out. She particularly wanted to gauge the response in Massachusetts, where a political showdown was looming over the same-sex marriage debate after the high court there ruled that limiting marriage rights to heterosexuals was unlawful discrimination.
Last Monday [February 8, 2004], first thing in the morning, Kendell, Kawa, the mayor's policy director, Joyce Newstat, ACLU attorney Tamara Lange, Geoffrey Kors of the gay rights advocacy group Equality California and a handful of other top staffers in the mayor's administration met behind closed doors. "We talked about the legal issues. We talked about the politics," Ragone said.
The group also started talking details. The California Family Code states that marriage is a union between a man and a woman. They decided to proceed on the grounds that denying marriage licenses to gays and lesbians violates their rights to equal protection under the California Constitution.
Additionally, Newsom did not act unilaterally on the matter. As SF Gate reported, Newsom's staff contacted the city attorney's office and asked for help. "Then they started giving key people the heads up. They called the offices of Pelosi and U.S. Sen. Dianne Feinstein. They alerted Secretary of State Kevin Shelley, state Attorney General Bill Lockyer, the city's two gay supervisors, Tom Ammiano and Bevan Dufty, and national Democrat Committee chairman Terry McAuliffe.
III.
Last but not least, Newsom was later vindicated by the state supreme court in 2008 with their decision in the In re Marriage Cases and in 2013 by the U.S Supreme Court with Hollingsworth v. Perry.
CONCLUSION:
We rate the article by The Federalist to be patently false with as many Pinocchios as you might want to include.

FOOTNOTE 1: The relevant portion of Bush's speech is as follows:
A strong America must also value the institution of marriage. I believe we should respect individuals as we take a principled stand for one of the most fundamental, enduring institutions of our civilization.

Congress has already taken a stand on this issue by passing the Defense of Marriage Act, signed in 1996 by President Clinton. That statute protects marriage under federal law as the union of a man and a woman, and declares that one state may not redefine marriage for other states.

Activist judges, however, have begun redefining marriage by court order, without regard for the will of the people and their elected representatives. On an issue of such great consequence, the people's voice must be heard. If judges insist on forcing their arbitrary will upon the people, the only alternative left to the people would be the constitutional process. Our nation must defend the sanctity of marriage.
(Visited 30 times, 1 visits today)