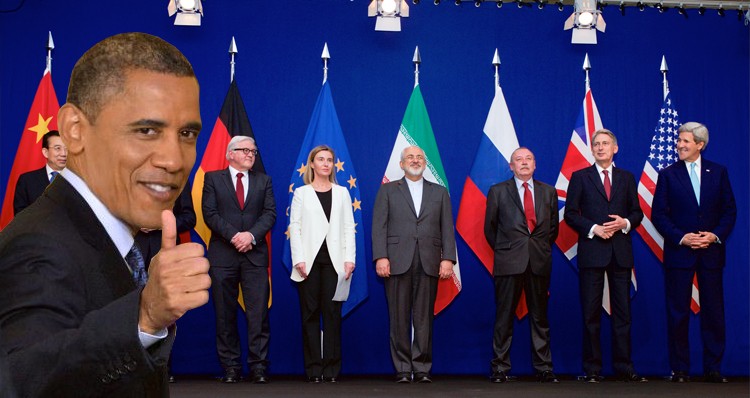 The Iran Deal, known officially as the Joint Comprehensive Plan of Action, is an international agreement regarding Iran's nuclear program that was signed in Vienna on 14 July 2015 by Iran, the European Union and the P5+1 countries – the five permanent members of the United Nations Security Council – China, France, Russia, United Kingdom and the United States – plus Germany.
The ink was still wet on the deal, blocking Iran's pathways to building a nuclear bomb, when Republicans began an aggressive campaign opposing its adoption by the United States. Indeed, back in March of this year, in a move that should surprise no one, a group of 47 Republican senators penned an open letter to the leaders of Iran warning that any nuclear deal they signed with President Obama will be in effect only as long as he is in office. The letter made the point that without Congressional approval, any agreement reached with this administration is "a mere an executive agreement" that will expire with this presidency, can be revoked by the incoming administration and is also subject to modification by a future congress.
The international fallout was immediate and intense, with several world leaders condemning that open letter penned by a group of Republicans whom many would come to know as #47Traitors. At home, a petition was created – 'File charges against the 47 U.S. Senators…' and a new hashtag #GOPWantsWar began trending tremendously during a Twitter Bomb on Thursday evening. A Facebook page called Americans Against Republican Wars was also created at the time.
Fast-forwarding to the present, as NBC News reported on Wednesday, September 2, 2015: "Congress is slated to vote in early September on a 'Resolution of Disapproval' related to the Iran nuclear deal, a level of oversight put into place when Congress passed the Iran Nuclear Agreement Review Act in May."
The Resolution of Disapproval, if signed into law, would permanently prevent the president from waiving or suspending the congressional sanctions put in place against Iran, which could scuttle the deal negotiated by the P5+1 countries in Vienna. But President Barack Obama has the ability to veto the resolution, something he has said he would do if the measure makes it to his desk for his signature.
However, as CNN reports:
In a major victory for President Barack Obama, Democratic Sen. Barbara Mikulski of Maryland announced support for the Iran nuclear deal Wednesday, providing the White House the votes it needs to prevent Republicans from scuttling the agreement.
As NBC News also noted: "If 41 Senators vote in support of the deal, it could kill a Resolution of Disapproval altogether."
The 34 Senators supporting President Obama and the Iran Deal include the following Democratic senators plus one Independent:
Tammy Baldwin, D-WI
Barbara Boxer, D-CA
Sherrod Brown, D-OH
Tom Carper, D-DE
Bob Casey, D-PA
Chris Coons, D-DE
Joe Donnelly, D-IN
Dick Durbin, D-IL
Dianne Feinstein, D-CA
Al Franken, D-MN
Kirsten Gillibrand, D-NY
Martin Heinrich, D-NM
Mazie Hirono, D-HI
Tim Kaine, D-VA
Angus King, I-ME
Amy Klobuchar, D-MN
Patrick Leahy, D-VT
Ed Markey, D-MA
Claire McCaskill, D-MO
Jeff Merkley, D-OR
Barbara Mikulski, D-MD
Chris Murphy, D-CT
Patty Murray, D-WA
Bill Nelson, D-FL
Jack Reed, D-RI
Harry Reid, D-NV
Bernie Sanders, I-VT
Brian Schatz, D-HI
Jeanne Shaheen, D-NH
Debbie Stabenow, D-MI
Jon Tester, D-MT
Tom Udall, D-NM
Elizabeth Warren, D-MA
Sheldon Whitehouse, D-RI
(Visited 13 times, 1 visits today)