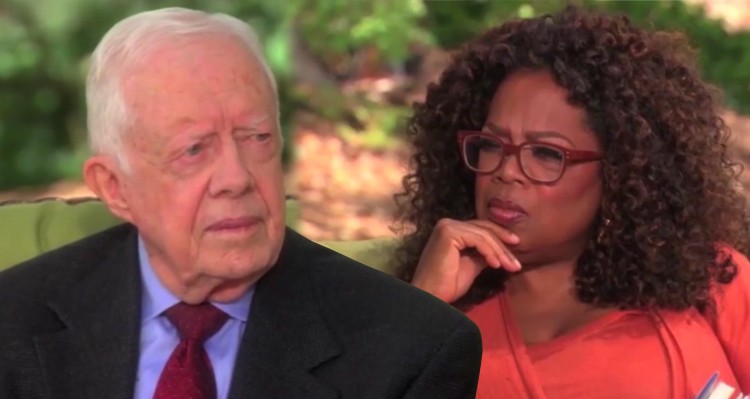 Former Democratic President and Nobel Peace Prize winner Jimmy Carter sat down with Oprah Winfrey for this weekend's "SuperSoul Sunday" interview, telling her that growing up as the only white child in a predominantly black community had a profoundly positive impact on his life.
Born James Earl Carter, Jr. on October 1, 1924, he grew up in the small rural town of Archery, Georgia, and he related to Oprah that when he was working on his father's peanut farm, he hunted and fished and played with his friends who were mostly African-American.
The people with whom I worked in the field, and the people with whom I wrestled and fought, and the people with whom I went fishing and hunting were all African-Americans. I felt, kind of, in an alien culture when I got old enough to go to a white school and that sort of thing.
"In fact," he continued: "I try to think of the five people, other than my own parents, who shaped my life, and only two of them are white. The other three were African-Americans."
Asked by Oprah about current racial tensions, Carter responded that he felt much of it stemmed from confusion following the accomplishments of the Civil Rights Movement:
I think we went through the [civil rights] era and eventually wound up in the early 1960s, when [President Lyndon] Johnson got the civil rights bills passed, and then we kind of breathed a sigh of relief in this country.
Carter continued, explaining that although the country was momentarily relieved by the initial success of the movement, that battle was far from over:
We kind of took it for granted. I think more recently we've seen, with the police activity against innocent black people, that we still have a long way to go.
You can watch Carter speaking with Oprah about being the only white child in his neighborhood growing up in the clip, below. And many thanks to President Carter for his unabashed allegiance to truth.
*** A new Facebook page has been created to pay tribute to President Carter and former First Lady Rosalynn Carter, called Honoring Jimmy Carter. Be sure to check it out – you'll be glad you did.
(Visited 39 times, 1 visits today)