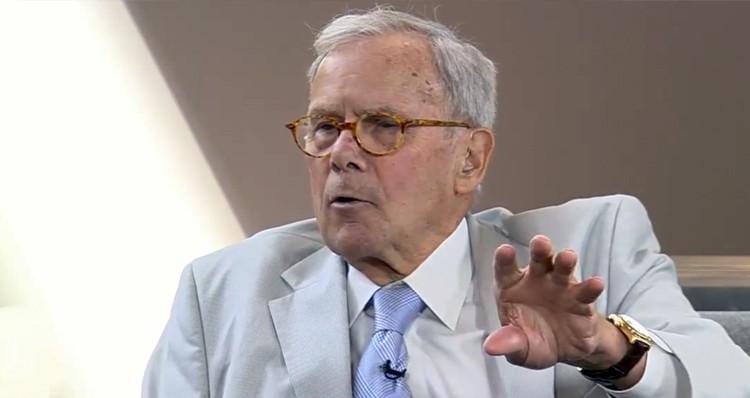 The enthusiastic crowd reportedly cheered when Tom Brokaw told them what he thought about news coverage of Donald Trump's campaign.
Legendary newscaster Tom Brokaw was at the National Book Festival in Washington, D.C., back in September 2015, promoting his new book, "A Lucky Life Interrupted."
At one point Brokaw, whose journalism career spanned over fifty years, weighed in on his profession and what he thought of the news coverage of Republican presidential hopeful Donald Trump.
Several attendees reported Brokaw as saying he would have to "call-in sick" if he had to lead with Donald Trump every night.
The Wrap reported that "the room apparently erupted in applause following the comment."
.@tombrokaw: "If I was at @NBCNews right now leading w @realDonaldTrump every night, I'd call in sick." #NatBookFest15

— Emily Brown (@emilygbrown) September 5, 2015
Tom Brokaw on leaving NBC: 'If I were there now, and leading with Donald Trump every night, I would call in sick.' *Room erupts in applause*

— Alyssa Edes (@alyssaedes) September 5, 2015
Tom Brokaw at nat bk festival: if I had to deal with nightly news & leading w/ Trump every night Id call in sick.

— Sarah Karlin-Smith (@SarahKarlin) September 5, 2015
(Visited 135 times, 1 visits today)