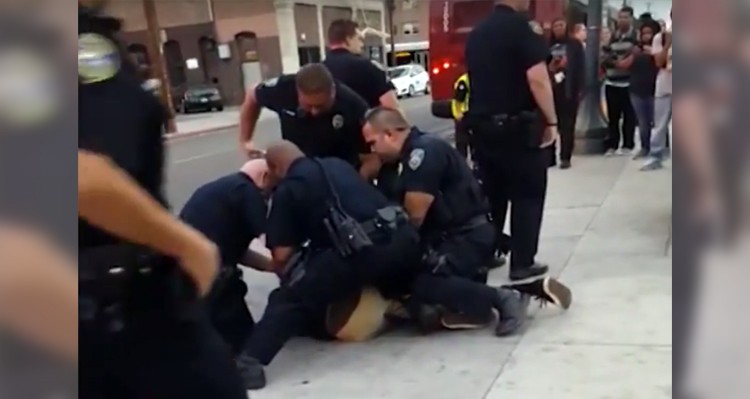 Nine police officers were captured on video slamming a teenager onto a concrete sidewalk and assaulting him. His crime – jaywalking.
Early Tuesday morning Stockton, California police arrested the 16-year old boy and charged him with trespassing and resisting arrest according to a report by RT.
According to RT, "the teen was walking near the city's bus depot, when a Stockton Police officer saw him. The video of the interaction begins with the cop restraining the young man and then starting to beat him with the baton."
An onlooker can be heard in the video shouting:
It's a f**cking kid! Get off him! He's been jaywalking! Leave him alone, he didn't do anything wrong!
The police officer can be heard shouting "stop resisting!" but he seems to ignore the onlookers.

Joseph Silva, the public information officer for the Stockton PD, told RT that backup was called due to the gathering crowd and because the police claimed the teenager was resisting arrest.
Four officers arrived on the scene and began wrestling the teen to the ground; an additional four officers arrived and cordoned off the scene.
As RT reports,
In the end, there were nine officers involved in detaining the boy. Finally, the teenager was handcuffed and marched off to a police car. He was brought to the police station where he was charged with trespassing in violation of the city's municipal code and resisting arrest. The 16-year-old was released to his mother that day.
You can watch the video of the arrest, below:
(Visited 66 times, 1 visits today)