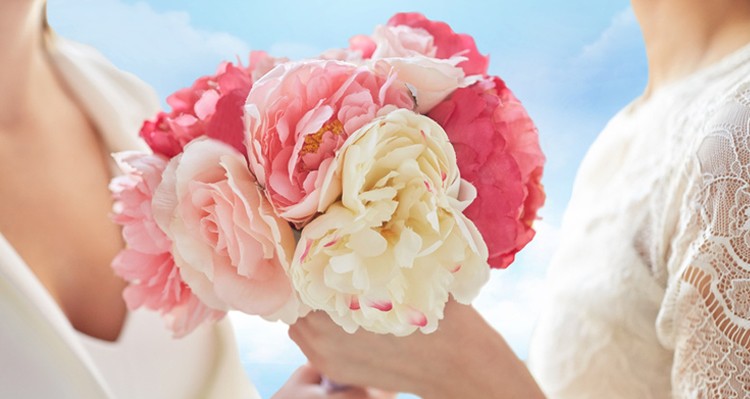 The owners of an Oregon baker are refusing to pay a gay couple the $135,000 in damages, despite the fact that they have raised over $500,000 dollars.
You might recall the story of Melissa and Aaron Klein, the owners of the Gresham, Oregon bakery called "Sweet Cakes" that made national headlines in 2013 after turning away Rachel and Laurel Bowman-Cryer, a pair of lesbian brides-to-be.
KATU reported in February 2013 that the Oregon Attorney General's civil enforcement office received a complaint in January of that year and was investigating allegations that Sweet Cakes owner Aaron Klein violated the law when he told the couple that he couldn't sell them a cake because "they were abominations to the Lord."
Brad Avakian, the Oregon State Labor Commissioner, awarded the the brides damages this July for emotional suffering, saying the Kleins had violated the women's civil rights by discriminating on the basis of their sexual orientation.
However, The Oregonian reports that the Kleins have defied that order, claiming financial hardship – this, in spite of the fact that the couple has raised more than $500,000 on their behalf through crowdfunding efforts.
One of their lawyers wrote to the Bureau of Labor and Industries telling them: "Our clients do not have a bond or irrevocable letter of credit in place and have no further plans to obtain either one."
Anna Harmon, another of the three lawyers representing the Kleins, said she could not comment about her clients' actions.
"These questions delve into matters of [attorney-client] privilege that we aren't at liberty to discuss publicly," she said, adding "There's still ongoing litigation and we can't talk about strategy. "
Labor bureau spokesman Charlie Burr told The Oregonian in a Wednesday email that "It's difficult to understand the Kleins' unwillingness to pay the debt when they have, very publicly, raised nearly a half million dollars," adding that "They are entitled to a full and fair review of the case, but do not have the right to disregard a legally binding order."
Paul Thompson, a Portland attorney representing the Bowman-Cryers, declined to comment as well saying, "We don't want to speculate on their motives as to why they do or don't do things."
What is even more confusing about the refusal is the fact that Gay rights activist Matt Stolhandske, a board member of Evangelicals for Marriage Equality and a contributor to The Purple Elephant, reported for The Washington Post offered to pay the fine last October, writing that "As a gay man, I should hate Melissa and Aaron Klein."
I'm also an evangelical Christian. I can't understand why Klein or any other Christians twist the words of Jesus Christ to justify this behavior. To me, it's a deeply harmful and embarrassing bastardization of our faith.

But I don't hate the Kleins. In fact, I'm raising money to cover the $150,000 punitive fine they received from Oregon.
On the flip-side, The Oregonian reports that in response to the refusal to pay, "state officials have gone to court to establish their right to place a property lien or attach other assets belonging to Aaron and Melissa Klein, proprietors of the Sweet Cakes by Melissa bakery."
(Visited 25 times, 1 visits today)