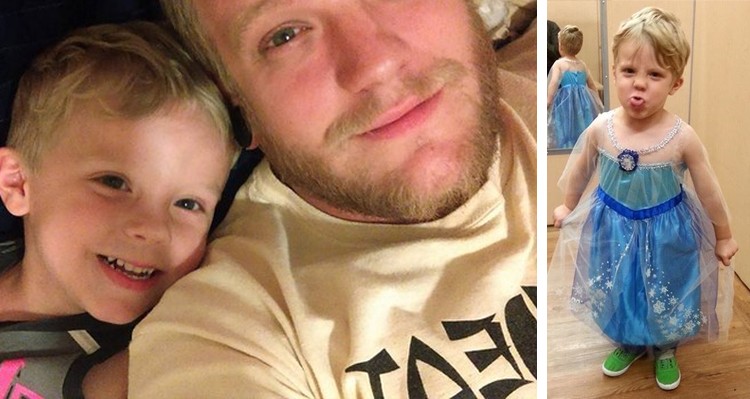 A 28-year-old father from Virginia is burning up social media with his epic response to his son's request to go as Elsa from the movie "Frozen" for Halloween.
Paul Henson took to Facebook, posting a photo of his 3-year-old son, Caiden, wearing his princess costume and announced that he plans to dress up as Princess Anna.
Henson and Caiden's mother, Ashley Ramage, explained to Huffington Post that "Elsa has always been their son's favorite character from "Frozen," and when it came time to choose a Halloween costume they told Caiden he could choose whatever he wanted — it didn't matter if the outfit was marketed for a boy or girl."
Henson elaborated on his Facebook post, writing:
Anyone that knows us, knows we generally let Caiden make his own choices, to an extent. Well, he has decided on a Halloween costume. He wants to be Elsa. He also wants me to be Anna. Game on.

Keep your masculine bullshit and slutty kids costumes, Halloween is about children pretending to be their favorite characters. Just so happens, this week his is a princess.
Henson's Facebook is being flooded with best wishes and compliments from friends and from strangers and one person posted a similar photo of her son, writing:
My cousin posted on my wall about you and your Son. Before i read it, i saw the picture and thought it was my own Son!!… High five to keeping it real and letting your boy dress how ever he wants too… This is Lucas, on his 5th birthday… xx
Halloween is just around the corner – so be sure to tell us your favorite Halloween story in the comments below and send us any interesting photos you might happen to have sitting around.
(Visited 47 times, 1 visits today)