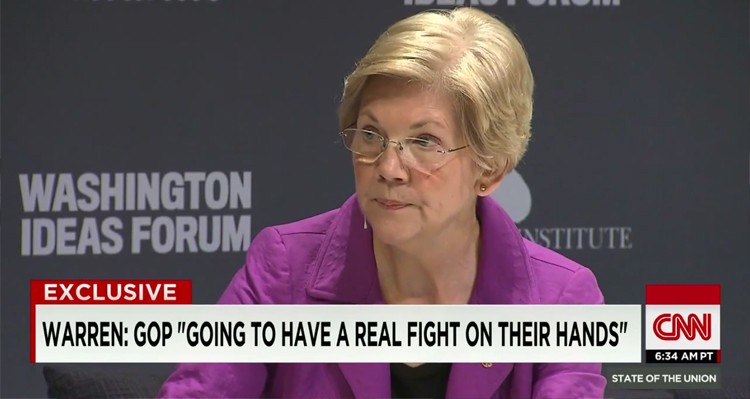 Sen. Elizabeth Warren (D-MA) spoke with CNN's Jake Tupper on Sunday's "State of the Union" about the GOP-led effort to defund Planned Parenthood warning that Republicans are "going to have a real fight on their hands" if they want to continue waging war on women's access to healthcare.
Tupper began the discussion, saying to Warren: "Obviously your position in supporting Planned Parenthood is well established. The reason that Planned Parenthood purportedly was in front of the congressional hearing was because of these video tapes…" Warren interjected a "yes," and Tapper continued: …of Planned Parenthood officials saying and doing things that even Planned Parenthood questions in terms of the glibness. Is there nothing on the video tapes that you saw that bothers you at all?
Warren responded:
Look, let's remember what we were debating on the floor of the United States Senate and that was defunding Planned Parenthood. 2.7 million people get their health care from Planned Parenthood every year. One in every five women in America sometime in her life will get her health care from Planned Parenthood.

.

Planned Parenthood, what does it mostly do? 97 percent of what Planned Parenthood does is about cancer screenings, about screenings for STDs, about birth control. Planned Parenthood is in more than half of all of the Planned Parenthood clinics are in places where there's limited access to health care. So this, for many people, is their — for many women is their only health care provider, sometimes their principle health care provider. And the Republicans say the first issue that we've got to discuss and the number one thing — everything else can go forward on the budget or not go forward or we can cut everything else. The first thing we've got to do is defund Planned Parenthood. That means defunding health care for women.

.

And make no mistake, what this is really about is about women's access to abortion. And even though not one federal dollar goes to pay for abortions through Planned Parenthood, the Republicans want to find one more way to make it harder, to make it impossible for a woman who is facing one of the most difficult decisions of her life. They want to find a way to make it harder on her to get the health care she needs. And all I can say is we've been in that world before.
Echoing her powerful defense of women in a fierce Senate floor speech1 in August, Warren continued:
When I talk about 1955 I'm talking about a world where women die. I'm talking about a world where women committed suicide rather than go forward with a pregnancy they could not handle. And what the Republicans are saying is they want to go back and I want to make it clear we are not going back. Not now. Not ever.
After the massive applause died down, Tapper noted: "It's too bad they're not doing a straw poll here."
Warren replied "yes," and continued with a warning to Republicans seeking office:
I want to tell you something. We are doing the straw poll. It's called the 2016 elections, and the Republicans want to get out there and they want to run on shutting down women's access to cancer screenings and shutting down women's access to birth control, and shutting down women's access to not government-paid for abortions then they're going to have a real fight on their hands. Let them do it.
You can watch Senator Warren in action, below:

FOOTNOTE 1: Warren began that speech, stating:
Do you have any idea what year it is? Did you fall down, hit your head and think you woke up in the 1950s or the 1890s? Should we call for a doctor?
Warren was speaking after alleged covertly recorded videos released by the Center for Medical Progress showed Planned Parenthood officials discussing the costs associated with fetal-tissue extraction. That footage has been widely criticized by both parties and has set off political firestorms. Republicans frantically allege that the conversations proved that staffers were selling baby body parts for profit – a claim that has be refuted many times since the accusation surfaced.
(Visited 14 times, 1 visits today)