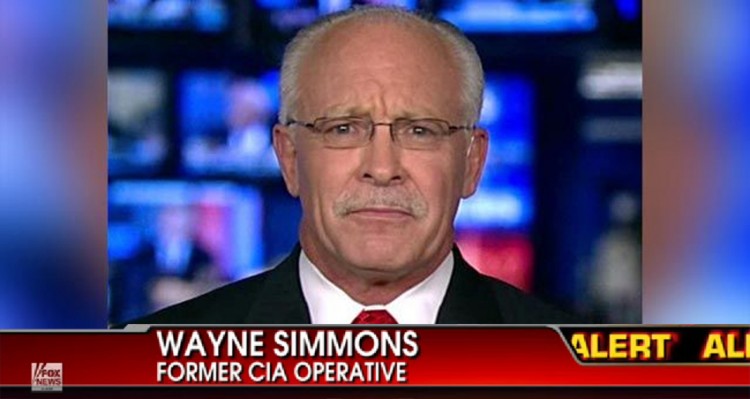 Wayne Simmons, a frequent Fox News "CIA expert," was arrested Thursday after being indicted by a federal grand jury on charges lied about his service with the CIA.
Simmons is accused of falsely claiming that he worked as an "outside paramilitary special operations officer" for the CIA from 1973 to 2000. On Fox, this was often shortened to "former CIA operative."

He was also indicted for using that false claim to gain government security clearances and an assignment as a defense contractor, where he advised senior military personnel overseas.
Wayne joined the U.S. Navy in 1973 where he was recruited by the Central Intelligence Agency to became part of an Outside Paramilitary Special Operations Group. He spearheaded Deep Cover Intel Ops against some of the world's most dangerous Drug Cartels and arms smugglers from Central and South America and the Middle East .

Simmons has been a Terrorism Analyst for the Fox News Channel since 2002. In 2004, under the direction of Secretary of Defense, Donald Rumsfeld, he became a part of the Pentagon Outreach Program for Military and Intelligence Analysts.

Simmons was one of the first outside Intelligence officers to visit GITMO (Guantanamo Bay , Cuba ) in July, 2005 and again in July, 2006 and March, 2008.

In July, 2006 Simmons was given the distinguished honor to serve as a consultant to the Bush White House to assist in the construction of the Military Commissions Act of 2006 which was signed into law by President Bush in October 2006.

In 2008 Simmons came out of retirement and trained as Team Leader of the HTT, Human Terrain Team's, that were scheduled to deploy in Afghanistan.

In 2010 Simmons served as the S-2, for the Counter Insurgency Advisory and Assistance Team, CAAT, at ISAF HQ, Kabul, Afghanistan.

In 2014 Wayne had the honor of becoming a member of the Citizens Commission on Benghazi a position he still holds.

He has written a novel, The NATANZ DIRECTIVE to which the movie rights were purchased by PATRIOT PICTURES LLC, for production in 2016.

Wayne is the sole inventor and PATENT holder of the Fraud Prevention Software, HADRiAN. He is currently the CEO of Securus LLC, a Delaware Limited Liability Company.
Fox News tried to distance themselves from Simmons soon after the news of his arrest became public.
According to CNN:
Simmons is a familiar face to Fox News viewers. After the arrest was announced on Thursday, Fox News spokesperson Irena Briganti told CNN that he "was never a contributor for Fox News," and that he appeared on the network only as a non-paid guest. She therefore declined to comment further.

Simmons' web site describes him as a "terrorism analyst" for Fox and a consultant to various government entities.

While it is unknown how often Simmons has appeared on television over the years, Fox's web site lists dozens of appearances and quotes, usually labeling him a former CIA "operative," "analyst" or "officer."
In addition to charges related to the CIA fraud, the U.S. Attorney's Office has confirmed that: "the indictment also alleges that Simmons defrauded an individual victim out of approximately $125,000 in connection with a bogus real estate investment."
If convicted, Simmons faces 20 years in prison on the wire fraud counts, 10 years in prison on the major fraud against the U.S. counts, and 5 years in prison on the false statements count.
(Visited 45 times, 1 visits today)