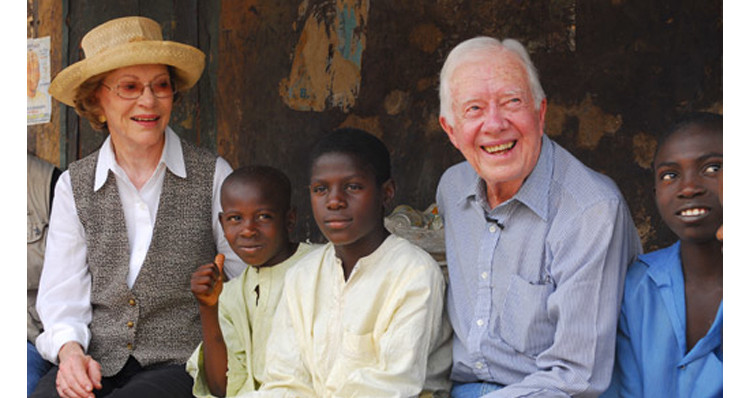 It's wonderful to see this country and the world paying tribute to the 39th President of the United States, Jimmy Carter. The Nobel Peace Prize laureate won yet another award this past week. The League of Women Voters honored President Carter with the Humanitarian Empowerment Award. Former First Lady Rosalynn Carter also received the Empowerment Award for her advocacy and work in helping those who deal with mental illness. Both founded The Carter Center in 1982. Their missions: 'Waging Peace, Fighting Disease, Building Hope.' And that is what they have done time and time again.
The couple's grandson, Jason Carter, had some positive news when interviewed by WSBTV Channel 2's Lori Geary at the award ceremony:
"He feels good physically, the care is going really well, he's tolerating it," said Jason Carter about his grandfather, former President Jimmy Carter, who was diagnosed with melanoma that has spread to his brain.

Jason Carter said his grandparents are in a good place emotionally because they've witnessed such an outpouring of support from around the world.
Social Media is embracing President Carter in masses, dispelling longtime negative Republican/mainstream media myths and falsehoods – and finally giving this great peacemaker and humanitarian his due recognition. In just seven weeks, the Facebook page, 'Honoring Jimmy Carter' has garnered over 100k members/likes.
People from all over the world are leaving comments and sharing President Carter quotes/stories/memes/messages within their own social media networks of Twitter, Reddit, Email, Tumblr, Pinterest, Instagram…as well as Facebook.
To join the tribute and like/visit the Facebook Page: 'Honoring Jimmy Carter,' click here.
Thank you, President Carter, for the work you have done, the examples you have set, and the many gifts you have bestowed upon the world for over nine decades. You are dearly loved.

Originally posted to Daily Kos by Leslie Salzillo.
(Visited 15 times, 1 visits today)