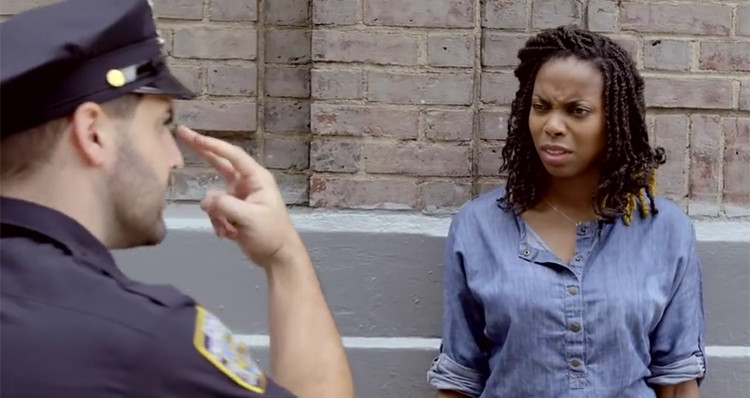 Saturday Night Live's Sasheer Zamata teamed up with the ACLU Nationwide to show EXACTLY how privilege and power works.
Actress and comedian Sasheer Zamata, best known for her breakout role on the cast of Saturday Night Live, was recently appointed the ACLU celebrity ambassador for women's rights. Other celebrity ambassadors include Harry Belafonte, W. Kamau Bell, Lewis Black, Melissa Etheridge, Jesse Tyler Ferguson, Marlee Matlin and Michael Kenneth Williams.
In her role as an ambassador, Zamata plans to work to "elevate the ACLU's work to fight gender inequality and structural discrimination against women in employment, education, healthcare, housing, and criminal justice through advocacy and public education."
Last week Zamata wrote an empowering article for the ACLU, addressing the issue of privilege, writing that "it's a secret weapon that helps us even when we don't know it, makes structural discrimination difficult to see, and disproportionately affects women."
Accompanying the article is a video featuring her and a white male friend walking around New York City. While he carries on about how far the country has come regarding equality, she finds herself surrounded with images of white male dominance, is repeatedly cat-called and gets stopped and frisked in an obvious instance of racial-profiling.
Providing background on the ACLU's women's rights program, the ACLU writes: "The ACLU Women's Rights Project was co-founded in 1972 by U.S. Supreme Court Justice Ruth Bader Ginsburg, who called women's rights 'an essential part of the overall human rights agenda.'"
Though strides have been made in the past several decades to advance and protect the rights of women and girls, there's a lot left to do.
In the U.S. today:
Women make only 78 cents for every dollar earned by a man; African-American women only earn 64 cents; and Latinas, only 55 cents for each dollar earned by a white man;
A woman's right to choose is threatened by extreme lawmakers who have introduced more than 100 abortion restrictions in 2015 alone;
Few legal protections exist for pregnant workers and new mothers, putting families in danger of economic instability, though women are the primary breadwinners in 4 out of 10 families with children.
You can learn more about the ACLU's Women's Rights Project here.
Featured Image: YouTube screenshot.
(Visited 16 times, 1 visits today)