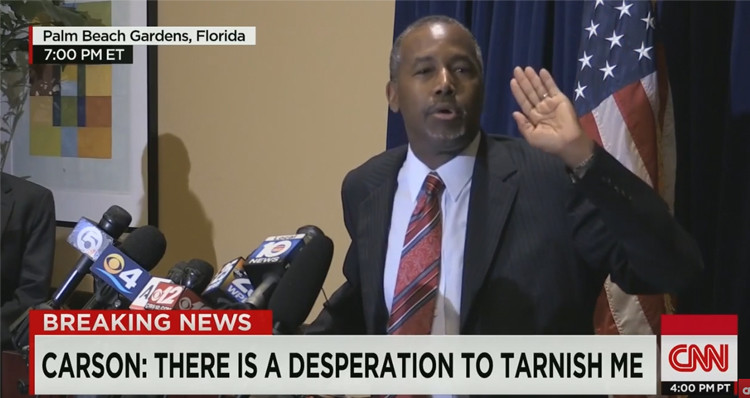 Tensions boiled over during a Friday press conference as Ben Carson comes under increased scrutiny.
Republican presidential front-runner Ben Carson lashed out at members of the press during a Friday evening press conference.
As The Washington Post reported this evening: "For years, Carson has said he was offered a 'full scholarship' to the U.S. Military Academy while he was a high-achieving high school ROTC cadet in the late 1960s. But Carson never applied to West Point, was never accepted — and never received a formal scholarship offer. West Point doesn't offer scholarships; all cadets attend for free."
Carson attempted to turn things around on the media during the Palm Beach Gardens, Florida, press conference where a combative Carson asked reporters why President Obama had not ever been subjected to such scrutiny.
"The words 'a scholarship was offered' were a big deal," asked Carson, "but the President of the United States' academic records being sealed is not?"
You can watch highlights of Carson's apparent meltdown in the clip below:
(Visited 20 times, 1 visits today)