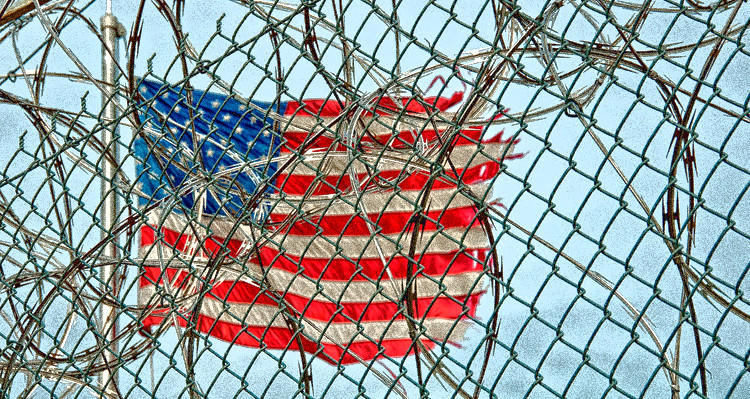 Right wing bigotry calling for persecution of Syrian refugees proven to be based on lies.
Top European Union officials as well as CIA officials are contradicting claims that the Paris attacks were linked to Syrian refugees – nevertheless right wing bigots call for their persecution.
Conservative politicians in the United States of American are calling for sanctions against Syrian refugees seeking asylum in the wake of Friday's deadly terrorist attacks in Paris.
Republican presidential hopefuls Jeb Bush and Ted Cruz are calling for some sort of religious test to limit refugee immigration to those who are Christian.
Former Florida Governor Jeb Bush told CNN last Sunday that: "We should focus our efforts as it relates to refugees on the Christians that are being slaughtered," while Texas Senator Ted Cruz continued his call to bar Muslim refugees from entering the country, claiming that "there is no meaningful risk of Christians committing acts of terror," adding: "If there were a group of radical Christians pledging to murder anyone who had a different religious view than they, we would have a different national security situation."
As of late Monday afternoon, "23 governors have issued statements saying they would bar Syrian refugees from settling in their states, citing fears that violent extremists will masquerade as refugees in order to gain entry to the United States," according to a report by Vox. Notably, twenty-two of those states are led by Republicans with the only Democratic governor being Maggie Hassan of New Hampshire. "Only ten governors — all Democrats, except for Governor Gary Herbert of Utah — have issued statements at this time in support of the resettlement of Syrian refugees."
The New Yorker reports that "On Monday, Donald Trump said that, though he'd 'hate to do it,' as President he would 'seriously consider' closing mosques that were viewed as centers of radicalism," adding:
Others, like Rubio, have avoided the Christian question by saying that they don't think we should take refugees at all. Ben Carson, speaking to Chris Wallace on "Fox News Sunday," said that taking in refugees "from that area of the world I think is a huge mistake.… To bring them over here, under these circumstances, is a suspension of intellect," and would ignore "the reason the human brain has these big frontal lobes, as opposed to other animals."
Meanwhile, the investigation clears Syrian refugees of any wrong-doing in the Paris attacks.
Meanwhile back in reality, CBS News reported late Saturday night that although "a Syrian passport found near the body of another attacker was linked to a man who entered the European Union through a Greek island last month…  a U.S. intelligence official told CBS News the Syrian passport might be fake. The official said the passport did not contain the correct numbers for a legitimate Syrian passport and the picture did not match the name."
Additionally, last Sunday, Jon Snow of the U.K.'s News Channel 4, reported on Twitter that "Paris police sources say the 2 Syrian passports found on the terrorists were fakes probably made in Turkey."
U.S. Uncut reports that: "At least one top EU official is claiming every one of the radicals identified so far in Friday's terrorist attacks in Paris are European Union nationals, as serious doubts have been cast on the authenticity of a Syrian passport discovered in proximity to one of the attackers killed at the scene."
"Let me underline—the profile of the terrorists so far identified tells us this is an internal threat. It is all EU citizens so far. This can change with hours, but so far it is quite clear it is an issue of internal domestic security," High Representative for Foreign Affairs and Security Policy/Vice-President of the European Commission Federica Mogherini stated, following a gathering of EU foreign ministers.
The Middle East Eye reported on Sunday that: "fake Syrian passports have become a valuable commodity in recent months and are freely traded on the black market, as they can help ease the path for non-Syrians to get protection as refugees in Europe," adding that "a Dutch journalist reported in September that he had bought a fake Syrian passport and ID card, both bearing the picture of the Dutch prime minister, for $825."
According to the U.S. Uncut report, "it appears most of the perpetrators have been tied to France and Belgium, though the investigation is not yet concluded. One Egyptian passport was also found. However, Egypt's ambassador to France, Ihab Badawi, has claimed that passport belongs to an innocent victim rather than one of the attackers."
The Middle East Eye elaborated, reporting that: "the fan, Abdel Razzaq, has had three operations since sustaining grave injuries, his brother told Egyptian news channel al-Hayat on Sunday, and still has shrapnel in his body from the blast."
الباسبور المصري طلع لاحد الضحايا وهو وليد عبد الرازق ومازال علي قيد الحياه في احد المستشفيات الفرنسية pic.twitter.com/MtsGq0uErk

— بوش بوش  (@possyalkalyoube) November 14, 2015
Translation: "The Egyptian passport belonged to one of the victims, Walid Abdel Razzaq – he is still clinging to life in a French hospital."
Agence France Presse reported on Sunday that the European Commission itself was saying there was no need for a review of the bloc's refugee policy in the wake of the Paris attacks.
European Commission President Jean-Claude Juncker said Sunday that: "Those who organised, who perpetrated the attacks are the very same people who the refugees are fleeing and not the opposite. And so there is no need for an overall review of the European policy on refugees."
And in spite of all this, right wing bigots continue to target Syrian refugees for persecution. Pitiful, just pitiful.
(Visited 24 times, 1 visits today)