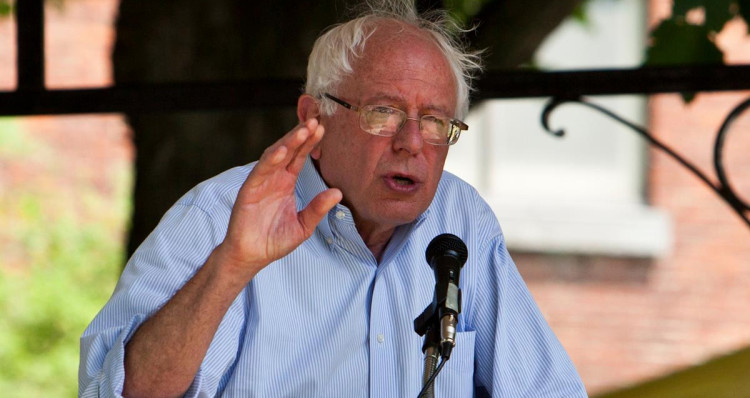 Bernie Sanders filed papers in New Hampshire to be placed on the primary election ballot on Thursday without incident.
Presidential hopeful Bernie Sanders filed papers with New Hampshire Secretary of State William Gardner placing his name on the primary election ballot as a Democratic Party candidate for the office of president.
As NBC News reports, "The longtime Vermont independent senator faced no challenges at Secretary of State Bill Gardner's office, despite earlier concerns about whether he legally qualified as a Democrat. Sanders declared himself a Democrat Thursday, and he said he will run as a Democrat in future elections. That was good enough for Gardner."
Sanders was accompanied to the secretary of state's office by Raymond Buckley, the New Hampshire Democratic Party chairman, who vowed to fight any challenges should they arise.
Buckley had written a letter to the secretary of state on Oct. 7 saying the New Hampshire Democratic Party "considers Senator Bernie Sanders to be a member of the Democratic Party and supports the placement of his name into nomination as a Democratic candidate for president in the 2016 New Hampshire primary."
According to NBC News, "Sanders brought a lawyer and a statement from the Vermont Democratic Party chair vouching for him as well, just in case. The precautions were unnecessary, however, as the senator signed the proper paperwork and delivered his fee to applause, joking that he felt like the president signing a bill."
Sanders signed the storied candidate guest book before leaving the Capitol. "We need a political revolution," he wrote. "Our government belongs to all of us, not just the 1 percent."
Addressing a rally attended by some 725 supporters outside the Statehouse, Sanders attributed the campaign's growing momentum to an outpouring of grassroots support in New Hampshire and across the country.
"What this campaign is about is saying no to a campaign finance system which is corrupt," he said, adding: "What this campaign is about is saying no to an economy which is rigged."
"What the political revolution is about is creating a government which works for all of us, not just the 1 percent."

Featured Image: Facebook
(Visited 23 times, 1 visits today)