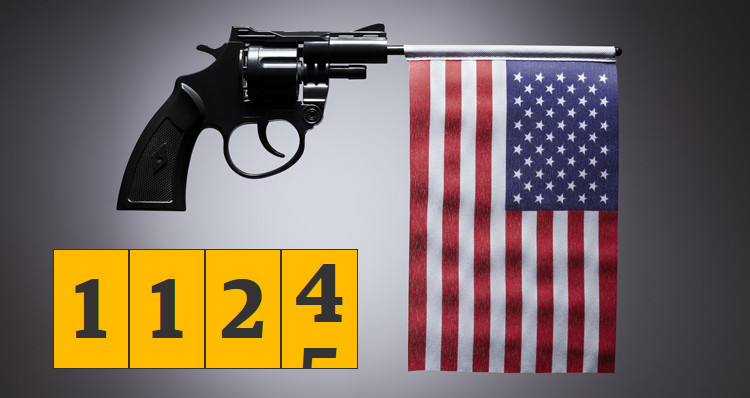 The Year in Guns by the Numbers
As 2015 draws to a close the startling numbers of victims of gun violence for 2015 are becoming known.
Below are some numbers, consolidated by The Gun Violence Archive, "an online archive of gun violence incidents collected from over 1,200 media, government and commercial sources daily in an effort to provide near real-time data about the results of gun violence," The Guardian who maintains an interactive online database of people killed by the police in the United States called "The Counted," and Gawker who compiled their own list of gun violence for the year.
The Year In Guns
Total Number of Incidents 51,565
Number of Deaths1 13,107
Number of Injuries1 26,431
Number of Children (age 0-11) Killed/Injured1 678
Number of Teens (age 12-17) Killed/Injured1 2,626
Mass Shootings2,3  353
Home Invasions2 2,266
Defensive Use2 1,234
Accidental Shootings2 1,877
Percent of gun owners who own 10 or more guns. 25 percent own five or more guns (The Trace) 8
The Year In Guns In Law Enforcement
Officer Involved Incidents2 4,292
Number of People Killed by the Police4 1,124
Number of times more likely a black man is to be shot by police than a white man (Washington Post) 7
Number of police officers who have been charged in the shooting deaths of unarmed black men (Washington Post) 3
Number of times more likely law enforcement officers are to be killed in states with high firearm ownership compared to states with low firearm ownership (American Journal of Public Health) 3
Estimated annual cost of gun violence to the American economy (Mother Jones) $229 billion
The Year In Gun Violence – Costs And Politics
Estimated annual cost of gun violence to the American economy (Mother Jones) $229 billion
FOOTNOTE 1: Actual number of deaths and injuries
FOOTNOTE 2: Number of INCIDENTS reported and verified
FOOTNOTE 3: As defined by the Mass Shooting Tracker as four or more people shot in one event.
FOOTNOTE 4: From The Guardian's "The Counted."
(Visited 24 times, 1 visits today)