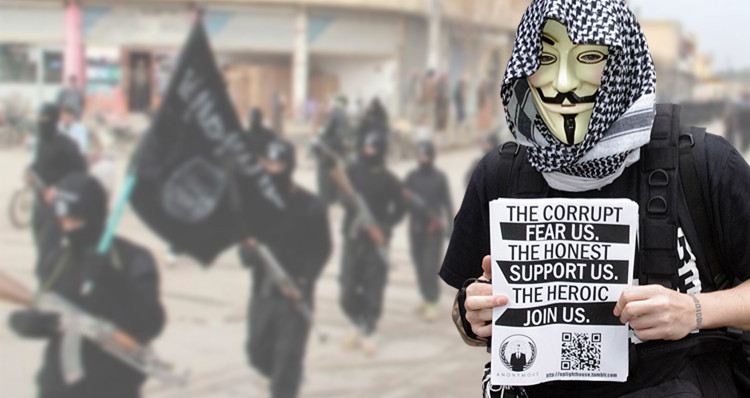 Anonymous announces the next phase of their campaign against ISIS.
Last month "Anonymous" had a successful time of hacking several hundred Isis Twitter accounts. Today, "Anonymous" has announced it will carry out an "Official Isis Trolling Day".
In a  posting on GhostBin, an Anonymous member claimed, "We will mock them for the idiots they are".
"We ask you to show your support and help against Isis by joining us and trolling them," they write. "Do not think you have to be a part of Anonymous, anyone can do this and does not require any special skills".
According to the post, the protest will take place on December 11 on Facebook, Twitter, Instagram, YouTube and in "the real world", with several American cities suggested as potential targets for protest.
Users are encouraged to upload "comical images and memes of Isis", focusing on the #Daesh hashtag. Anonymous also said it would use hashtags that it claims are popular with members of Isis. Real life protests will involve "the distribution of comical photos and stickers around the city".
Earlier this year Anonymous claimed to have taken down nearly 800 Isis Facebook and Twitter pages.
We will show them what they really are they do not stand for a religion, they do not stand for a god," read the Anonymous post. "They are brainwashers teaching from the young to the old their propaganda against the 'west' when in reality they are just increasing the distance between countries by giving many a bad name.
The hacktivist group declared the day to mock Islamic State (IS, formerly ISIS/ISIL) using the satirical strength of the internet, which is available in abundance.
Hashtags #Daesh and #Daeshbags are being used to ridicule the militant group, a name they hate so much that they have reportedly threatened to cut off the tongue of anyone who uses it.
Reports of #Daeshbags targeting Anons due to ISIS memes. Make them more mad by joining us on Dec 11 #TrollingDay pic.twitter.com/K604PYTUBb

— Anonymous (@AnonyOpNews) December 8, 2015
The message from Anonymous, posted to the website Ghostbin, asks that pictures of goats be tweeted at Islamic State members "with captions talking about their wives" and to "spread photos of dead/captured Isis members".
@YourAnonNews there is some very private stuff #Daeshbags #TrollingDay pic.twitter.com/BgktKmzsgZ

— Daniele (@HamletVLegion) December 11, 2015
People are being asked to attend the protests with photos and stickers mocking Islamic State and to "print out pages showing how Isis does not represent Islam".
#Daeshbags pic.twitter.com/6stqxhtZi8

— Anonymous (@YourAnonNews) December 11, 2015
According to "Anonymous," the trolling is aimed at eliminating the fear on which the Islamic State thrive by showing that "we are not afraid, we will not just hide in our fear, we are the majority and with our strength in numbers we can make a real difference."
@YourAnonNews #ISISTrollingDay #OpISIS pic.twitter.com/FxmqHgmKw6

— Jason (@ijasno) December 11, 2015
Just getting ready for #TrollingDay on December the 11. Isis u mad bro? @GroupAnon @YourAnonNews pic.twitter.com/OdeRaL0C3A

— Anonymous (@Snoezxx) December 8, 2015
The group has also taken aim at "extremist" Donald Trump after his remarks about Muslims.
Following the Nov. 13 Paris attacks, Anonymous declared war on the group. "Anonymous from all over the world will hunt you down," a spokesman for the hacktivist group announced in a November video. "You should know that we will find you and we will not let you go. We will launch the biggest operation ever against you." Which apparently includes strategic bullying on social media.
(Visited 29 times, 1 visits today)