The New York Daily News launched a bold attack against the NRA, calling Wayne LaPierre a terrorist.
The New York Daily News showcased one of the suspects in the San Bernardino, California, mass shooting for its Friday print edition.
The headline reads: "The News Says HE'S A TERRORIST," and below the featured image is a sub-headline showing 5 images – that of four mass murders and Wayne LaPierre, the executive vice president of the National Rifle Association.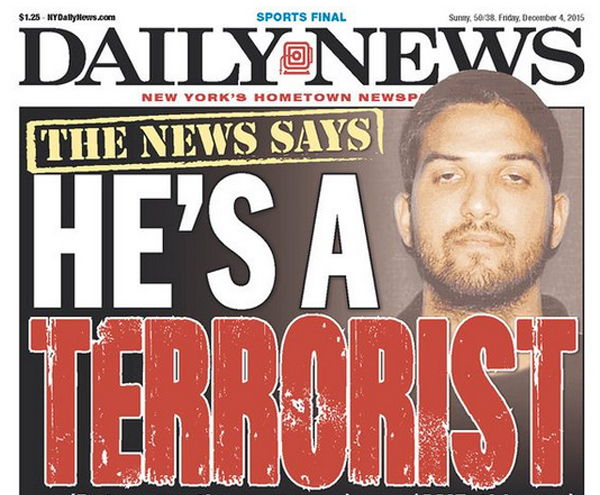 The sub-headline reads: "(But so are these guys…) (AND this guy) above the photos, and "Syed Farook joins long list of murderous psychos enabled by NRA's sick gun jihad against America in the name of profit," below them.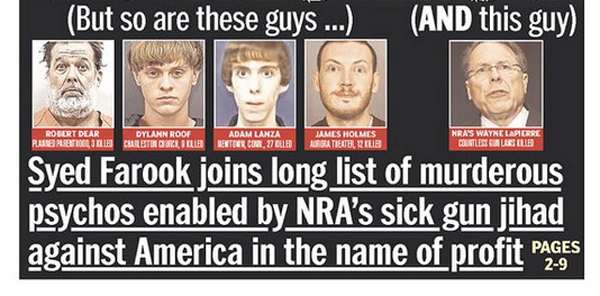 As Business Insider reports, the five men from left to right include:
This isn't the first time the New York Daily News has gone after Wayne LaPierre with a cover for its print edition. Their December 23, 1012 cover called LaPierre the "craziest man on earth," in the wake of the Sandy Hook Elementary School shooting that claimed the lives of 20 children and 6 adult staff members.
As the New York Daily News posted on the cover: "Just 90-minutes after a moment of silence for the Newtown victims, vile NRA nut blames everyone and everything EXCEPT the GUNS."
Most recently, the New York tabloid launched a bold attack on the NRA using just three words on the cover of their November 18, 2015 print cover.
The tabloid's cover denounced "NRA's Sick Jihad" in characteristically huge typeface. The story inside accused the gun rights group of tacitly abetting the arming of terrorists by blocking a proposed bill that would make it more difficult for terror suspects to buy guns in the United States. The Denying Firearms and Explosives to Dangerous Terrorists Act of 2015, formally known as H.R. 1076, was introduced in February, and includes a ban on the "sale or distribution of firearms or explosives to any individual whom the Attorney General has determined to be engaged in terrorist activities."
The article began with: "The NRA—and their gun-loving Republican cohorts—are refusing once more to stop terrorists intent on getting armed in the U.S.A."
The bill in question, H.R. 1076, was originally introduced during the administration of President George W. Bush back in 2007, but has never been signed into law.
Bold. pic.twitter.com/TCsFmfpQUt

— Jim Roberts (@nycjim) November 18, 2015
You can see the full cover to today's edition of the New York Daily News, below:
Daily News labels Syed Farook a terrorist — Wayne LaPierre, too: pic.twitter.com/aNCAbG8cyF

— Michael Calderone (@mlcalderone) December 4, 2015
(Visited 553 times, 1 visits today)