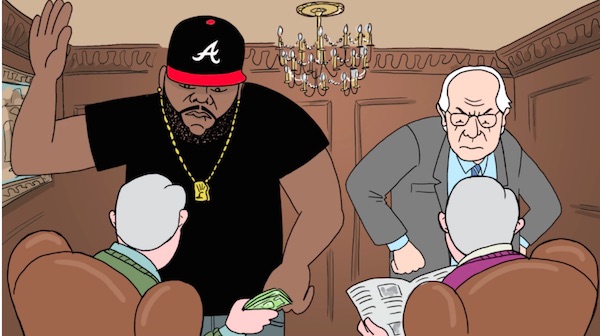 Bernie Sanders as you've never seen him before — animated!
This could serve as a campaign ad quite nicely, to complement the actual "America" campaign video that his campaign released to wide acclaim.
It seems to have been done by an animator to show his skills — and it works very well.
The words are from a speech he gave at a UAW hall in Iowa in 2015.
And that big guy helping Bernie slap the Koch brothers around at 0:55? Yes, it's Killer Mike.
Enjoy:
Transcript:
"Don't tell me that we can't provide a good healthcare system, guaranteed healthcare for all of our people.
Don't tell me that we can't have an excellent childcare system and a great educational system in this country.
Don't tell me that this great copuntry and our young people cannot lead the world in transforming our energy system so the planet we leave to our kids and our grandchildren is one that is habitable. 
Don't tell me we can't do that. We CAN do that. 
It ebarasses me to tell you what these others countries are doing for their people — we're not doing it. 
But in order to do that, we do need a politicial revolution and let me just simply tell you what that means. 
It means that you can't have elections as we did last November where 63% of the people don't vote — or 80% of young people don't vote. 
And anyone who tells you that politics is not important, you ask them why the Koch Brothers are going to spend a billion dollars on this election.
Involvement in the political process is what patriotism is about. 
If we do that, man we can create a country the likes of which no one has ever seen."
Video is from Rodd Perry on Vimeo.
(Visited 27 times, 1 visits today)