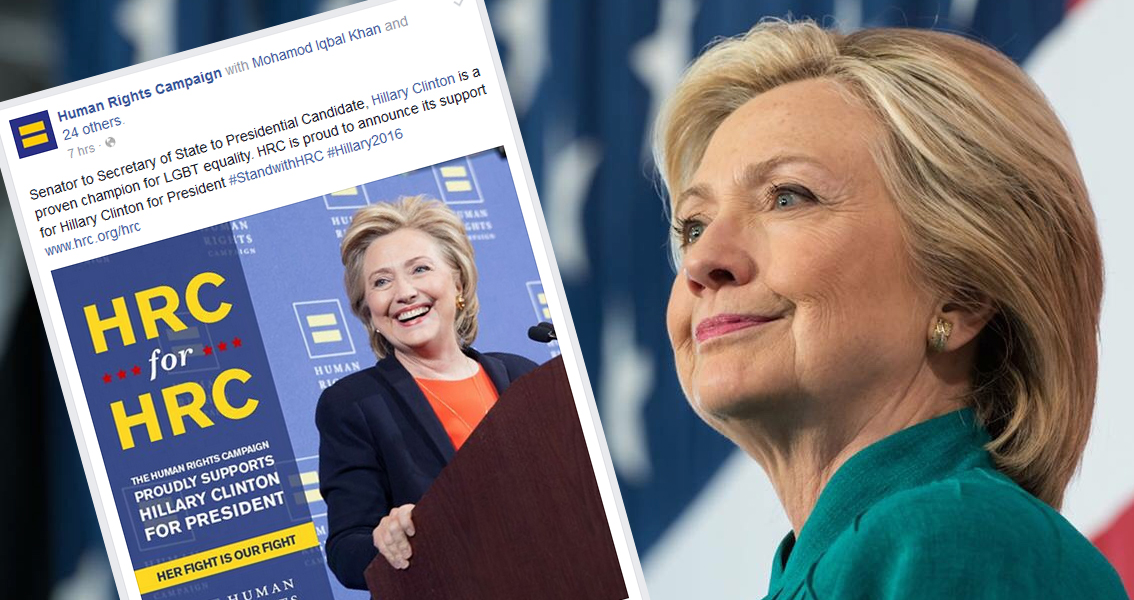 Another prominent progressive organization gets slammed on social media for endorsing Hillary Clinton.
The Human Rights Campaign (HRC), one of the largest organizations fighting for LGBT equality, announced their endorsement for Hillary Clinton (also HRC) early Tuesday morning. It didn't take long for commenters on social media to voice their disappointment with the organization – some saying they are pulling contributions.
You may remember a few weeks back that Planned Parenthood endorsed Clinton and were met with the similar disappointment and scorn – with many reporting they were pulling contributions.
Outraged LGBT activists are arguing that Clinton is the wrong choice for a number of reasons: Clinton only recently changed her position on marriage equality in 2013. In 2004, she gave a speech on the sanctity of marriage, saying it's a ". . . sacred bond between a man and a woman." The Clintons supported two pieces of anti-gay legislation: DOMA (The Defense of Marriage Act) and "Don't Ask Don't Tell."  Members are also arguing that her rival Bernie Sanders has been a supporter of gay rights since the 1970s. He marched in the first gay pride parade when he was Mayor of Burlington, Vermont and has been a consistent supporter of the LGBT community throughout his entire career.
One recurring comment that popped up: What does Hillary Clinton and Human Rights Campaign have in common – Goldman Sachs.
The announcement on Human Rights Campaign's Facebook page received more negative feedback than positive for their candidate choice. Some comments include:
"I'm unfollowing and dropping my membership. My donations will not go towards a company who supports such a habitual liar. Do your homework HRC. You want a champion for LGBT equality and you chose Hillary? After it took her forever to warm up to the idea of equality? After every scandal? You chose a corporate puppet not a champion for equality. #feeltheBern"
"Dropped the ball here HRC – only one candidate has consistently stood for equality, and it's not the corporate one you just endorsed."
"HRC won't get any more money out of me. Hillary Clinton was trashing queer people until about two years ago. Bernie Sanders has been defending our rights since he first entered politics. Shame on you, HRC."
"The CEO of Human Rights Campaign is Chad Griffin. According to Wikipedia: 'Griffin got his start in politics volunteering for the Bill Clinton presidential campaign, which led to a position in the White House Press Office at the age of 19.' I will no longer be donating to Human Rights Campaign."
"I too am disappointed. Bernie Sanders is a passionate defender of human rights and has been for his entire life. I expected the Human Rights Campaign to be more forward thinking!"
"Wow, HRC. Disappointing endorsement, considering her past voting record and past opinions on LGBT rights. I'm going with the candidate who has supported my LGBT brothers and sisters from the beginning. That person is not her. It's Bernie Sanders."
"Hillary is only supportive of lgbt when it meets her agenda. I can not believe that HRC is supporting Hillary Clinton, the women that (until she ran against Obama) was AGAINST marriage equality!? You should do your research. The clear candidate for any organization claiming to advocate for Human Rights is Bernie Sanders . . .you had a huge opportunity to truly advocate for humans and you chose an opportunistic, wavering liar, as opposed to a man with a documented and clear history of standing by his word, and actively advocating for ALL people. Who was responsible for the decision to support Hillary? Do they know anything about her? Clearly she is in your pockets. Disgusting."
Here's a small sampling of the reaction on Twitter:
What do the Human Rights Campaign and Hilary Clinton have in common? Goldman Sachs https://t.co/r0qv9Iv9JU

— Zaid Jilani (@ZaidJilani) January 19, 2016
Human Rights Campaign recognizes the candidate who advanced LGBT rights since the 1970s.

— Political Revolution (@OurPoliticalRev) January 19, 2016
Bernie Sanders Has a Lifetime Perfect Score from the Human Rights Campaign! #HumanRightsDay #DemDebate pic.twitter.com/gAWztwex5K

— Glenn Heiser (@GlennHeiser) December 10, 2015
Read all of the comments on Facebook:
Like Kimberley A. Johnson on Facebook HERE, follow her HERE. Twitter: @authorkimberley
A shoutout to Farral Haber. Learn more here.
(Visited 335 times, 1 visits today)