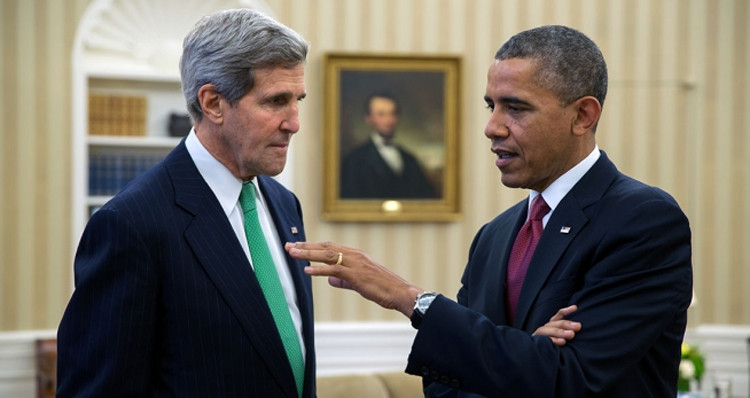 Obama's Nuclear deal scored a major victory last week; however, conservatives remain silent.
Iran has surrendered most of its nuclear stockpile to Russia in a major step towards fulfilling President Obama's controversial nuclear agreement.
The agreement, formally known as the Joint Comprehensive Plan of Action (JCPOA), is an international agreement on the nuclear program of Iran reached in Vienna on 14 July 2015 between Iran, the P5+1 (the five permanent members of the United Nations Security Council—China, France, Russia, United Kingdom, United States—plus Germany) and the European Union. The agreement was reached to ensure that Iran's nuclear program will be exclusively peaceful, and "Adoption Day" occurred on October 18, 2015 at which time participants began making the necessary preparations for implementation of their JCPOA commitments.
UPI reported last week that: "U.S. Secretary of State John F. Kerry announced Monday that a Russian container ship has hauled away almost all of Iran's low-enriched uranium — the fuel required to build nuclear warheads and atomic bombs. The handover fulfills one of the biggest provisions of the July accord struck between Tehran and a U.S.-led coalition known as 5+1."
"One of the most significant steps Iran has taken toward fulfilling its commitments occurred today, when a ship departed Iran for Russia carrying over 25,000 pounds of low-enriched uranium materials," Kerry said in a statement, adding: "I remain so proud of our team in achieving what was truly one of our most important accomplishments of 2015 — ensuring that Iran's nuclear program is exclusively peaceful going forward."
The government of Iran, headquartered in Tehran, has long said its nuclear program was peaceful, but agreed to the terms of the JCPOA in exchange for much needed economic relief  which would begin on Implementation Day. Following the issuance of an International Atomic Energy Agency (IAEA) report verifying implementation by Iran of the nuclear-related measures, the UN sanctions against Iran and some EU sanctions will terminate and some will be suspended. Once sanctions are lifted, Iran will recover approximately $100 billion of its assets (U.S. Treasury Department estimate) frozen in overseas banks.
According to the statement by Secretary Kerry:
Implementation Day will come when the International Atomic Energy Agency (IAEA) verifies that Iran has completed all of these nuclear commitments, which increase Iran's breakout time to obtain enough nuclear material for a weapon to one year, up from less than 90 days before the JCPOA. The shipment today more than triples our previous 2-3 month breakout timeline for Iran to acquire enough weapons grade uranium for one weapon, and is an important piece of the technical equation that ensures an eventual breakout time of at least one year by Implementation Day.
Kerry also thanked the governments of Russia, Kazakhstan, Norway, and other nations who helped export the uranium.
According to Secretary Kerry, the IAEA now must verify that Iran has less than 300 kilograms of enriched uranium stockpiled, the threshold agreed to by all parties to the accord:
The IAEA now must verify that Iran's enriched uranium stockpile is 300 kg or less, as well as confirm that Iran has met all of its other key nuclear steps in the JCPOA before Implementation Day can occur. These steps include removing much of Iran's uranium enrichment infrastructure, which we understand Iran is moving quickly to achieve. Iran also must remove and render inoperable the existing core of the Arak Reactor, effectively cutting off Iran's plutonium pathway to a nuclear weapon.
As UPI reports, "As part of the heavily scrutinized agreement, Iran will limit its nuclear program to the laboratory for a minimum of 10 years in exchange for the lifting of sanctions."
Secretary Kerry concluded his statement, noting: "As we move ever closer to the implementation of the JCPOA, we will remain vigilant to ensure that its implementation achieves exactly what we set out to do from the very beginning of these negotiations, to ensure that Iran's nuclear program is and always remains exclusively for peaceful purposes."
(Visited 101 times, 1 visits today)