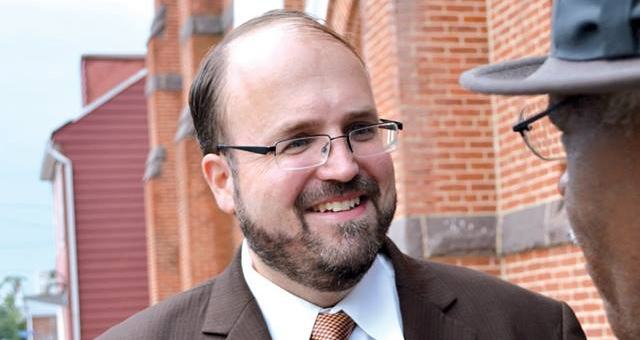 Pennsylvania Mayor Hits Back At The NRA
Pennsylvania Mayor Eric Papenfuse instructed his police department they are not to provide security for a February NRA-sponsored gun show after the NRA wouldn't meet a demand to pay a 60 percent increase in fees for the protection.
The Harrisburg police department has provided security for the annual Great American Outdoors Show in past years. Mayor Papenfuse said the decision not to offer security for the upcoming show is because of the NRA's opposition to Harrisburg's gun control policies.
Papenfuse told WHTM, "We have an epidemic of gun violence. "It's no secret that the NRA has worked against the city's interests repeatedly over the past year causing us to spend tens of thousands of dollars to defend common sense gun ordinances. We don't need to be doing them any favors."
The mayor's communications director, Joyce Davis, said, "The city has been in the middle of what it considers a crisis in young people, especially, being involved in gun violence in our city. He wants to redeploy some of these police officers to have extra patrols in the city."
Davis added the decision was not politically motivated and said,"It is not a question of politics; it is a question of saving our children," she said. "We care about them, the NRA may not."
A spokesperson for the NRA complained that despite making payments of $600,000 to the city since 2014, the mayor demanded additional fees for protection at the gun show.
NRA spokesperson Jeremy Green said in a statement:
"Unfortunately, demands were made by the mayor for the 2016 show that included a 60 percent increase in fees to [the police department] to work the show and a requirement of a $50,000 grant for five years to the city. This offer was presented as all or nothing. If we did not accept, the mayor would pull [police] support."
Greene said that the NRA offered to increase donations to the city in exchange for protection of the show, however the mayor refused the amount. "We are disappointed our more than generous offer was declined, but we are mostly disappointed that the officers we have worked with the last two years will be the ones most hurt," he said.
Police from nearby Dauphin County as well as other local police departments have agreed to provide security for the show.
Like Kimberley A. Johnson on Facebook HERE, follow her HERE. Twitter: @authorkimberley
Special thanks to David Benowitz. Learn more here. 
(Visited 18 times, 1 visits today)