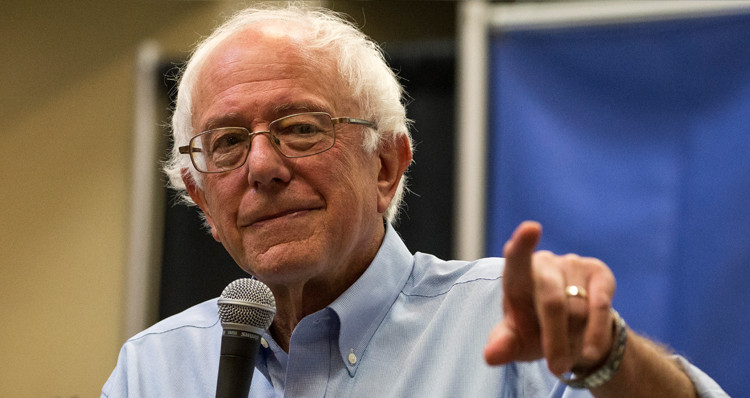 According to The Hill, Iowa is feeling the Bern.  
In Tuesday's Quinnipiac University poll, The Vermont senator wins 49 percent of likely caucus goers, compared to Clinton's 44 percent. It's a significant drop for the former Secretary of State from last month's Quinnipiac poll, which had her up by 11 percent.
Sanders is boosted by his 30-point lead among men, a significantly higher favorability rating, and more favorable views of his character traits and values. He's seen as a better steward of the economy and climate change, while Clinton wins on foreign policy, terrorism and healthcare.
Additionally, according to Politico, Sanders has soared to a 14-point lead over Clinton in New Hampshire, leading her in virtually every voting bloc. Plus, he's picked up a major endorsement from Moveon.org where the group has 43,000 members and 30,000 members in Iowa and New Hampshire respectively.
Also according to The Hill:
A win in both states would be a major victory for the Sanders campaign as he seeks to push back against the narrative that his support doesn't translate into electability. But even if he wins Iowa and New Hampshire, he's polling significantly worse in most other states, including South Carolina and Nevada, the next two Democratic primary contests.
Sanders is also incredibly popular amongst young voters, leading Clinton by double digits.
… the 74-year-old democratic socialist from Vermont, is the overwhelming choice of American Millennials. A new poll of 18- to 35-year-olds from Rock the Vote and USA Today shows Sanders leading Hillary Clinton in the Democratic primary 46 percent to 35 percent, regardless of party or ideology. The big question is whether young people will actually go out and vote like they did in 2008.
Add those stats to a university with a 100 percent accuracy in predicting presidential elections since 1975 and Bernie is looking pretty good.
In fact, we could be looking at scenario in which a socialist Jew from Brooklyn, New York might inhabit the White House. A scenario in which conservative Christian, right wing republicans could actually lose their minds. This could be the "end of days" that Ben Carson warned about – it could actually be considered worse than seeing a black man in there, and we all know how much that upset them.
(Visited 2 times, 1 visits today)