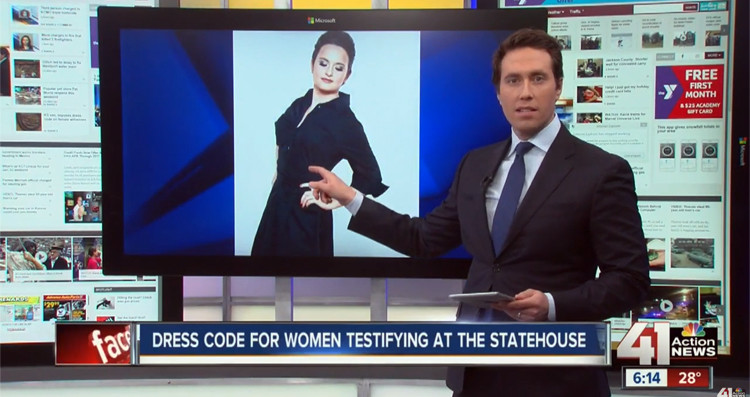 Kansas Senate committee chairman imposes gender-specific dress code for females saying men already know how to be "professional."
Republican Senator Mitch Holmes, chairman of the Senate Ethics and Elections Committee, has "imposed a dress code on Kansans testifying on elections or ethics bills that explicitly prohibits women from wearing skimpy skirts or blouses with plunging necklines while establishing no wardrobe restrictions exclusively for men," according to a report by The Topeka Capital-Journal.
Holmes told The Topeka Capital-Journal that Rule No. 2 of his 11-point code of conduct was create to insure that women testifying before his committee are dressed in respectful attire.
According to Capital-Journal, Holmes offered "detailed guidance to women conferees because he had observed provocatively clad females at the Capitol. Revealing too much of the body during testimony to the Senate committee is a distraction, he said.
"For ladies," the rule says, "low-cut necklines and mini-skirts are inappropriate." However, the written rules did not denote specific requirements regarding the minimum length for skirts 0r a maximum depth for blouses.
"It's one of those things that's hard to define," Holmes said, adding: "Put it out there and let people know we're really looking for you to be addressing the issue rather than trying to distract or bring eyes to yourself."
The rules specifically exclude any mention of men. Holmes said he considered a rule that men must wear a suit and tie when addressing his committee but decided that men don't need instructions in order to look professional.
Reaction to his new rule was swift with two Republican and two Democratic female senators speaking out against the rule saying no one should have the right to impose gender-specific rules on individuals testifying before the committee.
"Oh, for crying out loud, what century is this?" said Sen. Laura Kelly, a Topeka Democrat.
Wichita Sen. Oletha Faust-Goudeau, the ranking Democrat on the Senate Ethics and Elections Committee, agreed that witnesses should present themselves in a professional way but related that she was put off by the lack of consistency for men and women, adding: "In my 13 years in the Legislature, that's the first time I've ever read anything like that. I thought it was a little strange."
"Who's going to define low-cut?" said Sen. Vicki Schmidt, a Topeka Republican, adding: "Does it apply to senators?"
Sen. Carolyn McGinn, a Sedgwick Republican,expressed concern that those lacking the proper attire might be deterred from testifying before the committee.
"I am more interested in what they have to say about the direction our state should go than what they're wearing that day," McGinn said.
(Visited 71 times, 1 visits today)