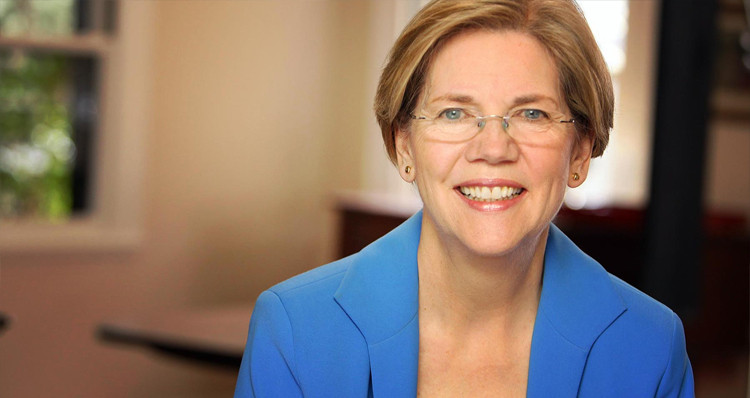 Elizabeth Warren warns Republicans that "abandoning the duties they swore to uphold would threaten both the Constitution and our democracy itself."
The unexpected death of conservative Supreme Court Justice Antonin Scalia has set off a battle over whether President Obama or the next president should appoint his replacement.
Pres. Obama paid tribute to Justice Scalia in a Saturday evening statement, saying that "He will no doubt be remembered as one of the most consequential judges and thinkers to serve on the Supreme Court."
"Obviously, today is a time to remember Justice Scalia's legacy," the President stated, adding: "I plan to fulfill my constitutional responsibilities to nominate a successor in due time.  There will be plenty of time for me to do so, and for the Senate to fulfill its responsibility to give that person a fair hearing and a timely vote."
The President's stated Constitutional responsibility is unambiguous – Article II Section 2 of the Constitution says the President of the United States"shall nominate" judges of the Supreme Court, "by and with the advice and consent of the Senate."
The historic precedent is clear regarding a late-term appointment – President Ronald Reagan nominated Justice Anthony Kennedy in 1987 with a little more than 13 months left in office and the Senate confirmed Kennedy 97-0 on Feb. 4, 1988.
Despite all this, all the Republican presidential hopefuls are either claiming that President Obama lacks either the Constitutional authority or the historic precedent to nominate a judge to the Supreme Court this late in his term. Responding to questions posed by CBS debate host John Dickerson last Saturday, the candidates held their ground when he pointed out Reagan's late-term appointment of Kennedy amid the boos of the audience.
Despite all this, Senate Majority Leader Mitch McConnell, who voted to confirm Kennedy's 1988 appointment by Reagan, released a statement praising "Justice Scalia's fidelity to the Constitution," adding that ""The American people should have a voice in the selection of their next Supreme Court Justice. Therefore, this vacancy should not be filled until we have a new President."
Progressive firebrand Sen. Elizabeth Warren blasted the Republican response to the controversy in a post on her official Facebook page.
She began by noting that "The sudden death of Justice Scalia creates an immediate vacancy on the most important court in the United States," before tearing into McConnell.
"Senator McConnell is right that the American people should have a voice in the selection of the next Supreme Court justice. In fact, they did — when President Obama won the 2012 election by five million votes."
Turning to the Constitution, she reminded Republicans that: "Article II Section 2 of the Constitution says the President of the United States nominates justices to the Supreme Court, with the advice and consent of the Senate. I can't find a clause that says '…except when there's a year left in the term of a Democratic President.'"
She concluded with a stern warning: "Senate Republicans took an oath just like Senate Democrats did. Abandoning the duties they swore to uphold would threaten both the Constitution and our democracy itself. It would also prove that all the Republican talk about loving the Constitution is just that — empty talk."
(Visited 24 times, 1 visits today)