When you're leading by double percentage points, and you're Donald Trump, you … ramble?!
Donald J. Trump is still polling in numbers that dwarf any competition, so what's a "Yooooooge" lead inspire him to do?
Well, of course … write a rambling Facebook post about his closest competitor, Tom Cruz. I mean, umm … Ted Cruz.
The summary? "Ted Cruz is a lying liar, and he lies a lot — Liar. Obamacare. Oh, and Ronald Reagan. Guns. Jobs. Vets. ISIS, and the Ted Cruz Birth Certificate."
Here's a taste: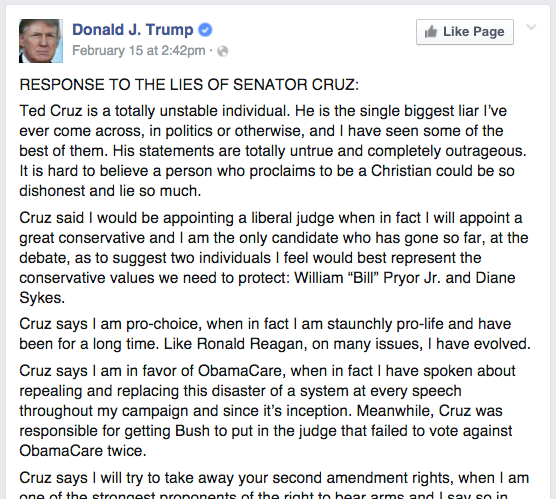 The whole post lies (SeeWhatIDidThere?!) on the Donald J. Trump Facebook page, posted in mid-February. Go there and read the whole thing if you're fond of self-abuse.
(Visited 50 times, 1 visits today)