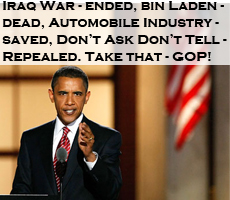 As we noted in Part 1, conservatives try to convince themselves (and the rest of the country) that President Obama has accomplished little – even with all evidence to the contrary. Truth seems a rare commodity in politics these days, particularly since the emergence of the Tea Party and other more extremist factions, although politicians – and on both sides of the fence – have a rich history of being entirely too liberal with the truth.
Part 2 includes highlights of President Obama's initiatives in areas related to foreign policy, Iraq and Afghanistan, the military and veterans, and national security. The entire list has been fact-checked by Robert P. Watson, Ph.D., Lynn University. The list is current, through the end of 2011.
Be sure to see Part 1, covering President Obama's economic, educational, energy & environmental accomplishments.
FOREIGN POLICY
• Closed the Bush-era "secret detention" facilities in Eastern Europe (2009)
• Ended the Bush-era policy allowing "enhanced interrogation" (torture); the US is again in compliance with Geneva Convention standards (2009) * Note: Obama has permitted some controversial interrogation techniques to continue
• Restarted international nuclear non-proliferation talks and reestablished international nuclear inspection protocols (2009) * Note: Bush withdrew from non-proliferation talks and dismantled the inspection infrastructure
• Reengaged in the treaties/agreements to protect the Antarctic (2009) * Note: These were suspended under Bush
• Reengaged in the agreements/talks on global warming and greenhouse gas emissions (2009) * Note: These were suspended under Bush
• Visited more countries and met with more world leaders than any president in his first six months in office (2009)
• Banned the export of cluster bombs (2009)
• Overturned Bush-era plans to increase the US nuclear arsenal (2009)
• Authorized the Navy SEALS operation that freed by force the US shipping captain held by Somali pirates (2009)
• Restored the US commitment to the UN population fund for family planning; overturned the ban on providing funds internationally for family planning (2009) * Note: The family planning efforts were suspended under Bush
• Instituted a new policy on Cuba, allowing Cuban families to return "home" to visit families (2009)
• Extended an offer of engagement (free from sanctions and penalties) to Iran through December 31, 2009 (Iran did not accept the offer) (2009)
• Sent envoys to the Middle East and other parts of the world, reengaging in multilateral and bilateral talks and diplomacy (2009)
• Authorized discussions with North Korea and the private mission by former president, Bill Clinton, to secure the release of two Americans held in prisons (2009)
• Authorized discussions with Myanmar and the mission by Senator Jim Web to secure the release of an American held captive (2009)
• Renewed lucrative loan guarantees for Israel (2009-2011)
• Signed the USIFTA trade agreement with/for Israel, which offers Israeli products preferred status (2009-2011)
• Authorized a $550m advance for Israel (six months prior to the scheduled date) in order to accommodate Israeli's economic and financial needs (2009)
• Continued agreements with Israel for cultural exchanges, immigration, commercial cooperation, security/military cooperation, counterterrorism supports, joint military exercises ("Juniper Cobra" in Oct 2009), etc. (2009-2011)
• Spoke on Arab television, spoke at an Egyptian university, and met with Arab leaders in an effort to change the tone of US-Arab relations (2009)
• Ordered the US to finally pay its dues to the United Nations (2009)
• Attended the Summit of America's meeting in Trinidad and Tobago (2010)
• Provided missile defense supports to Israel (2010); including $205 million for Israel to develop short-range rocket defenses ("Iron Dome") (2010-2011)
• Dispatched several envoys and initiated talks with numerous nations (2010-2011)
• Signed a nuclear limitation treaty with Russia (2010) * Note: The agreement calls for both countries to reduce their nucs by one-third (1,500) and launch systems by half (800)
• Hosted nuclear non-proliferation summit for several nations (2010)
• Rejected international calls to condemn or use sanctions on Israel after the "Turkey flotilla" incident (2010)
• Executive Order to establish support offices in the State Department to assist the governments of Pakistan and Afghanistan (2010)
• Issued memoranda to continue drug interdiction support with Columbia (2010)
• Secured largest "foreign military funding" allocation to Israel in history (2011)
• Proposed a two-state solution in Mideast based on the 1967 borders with clauses for either side to amend the borders ("Mutually agreed upon swaps") and develop security arrangements, designed to move the process forward before the UN (in Sept 2011) proposes and votes on a Palestinian state (May 2011)
• Executive Order for additional sanctions on Iran (May 23, 2011); ditto with North Korea (April 18, 2011)
• Initiative to promote US exports (June 15, 2011)
• Executive Order imposing certain sanctions/transaction prohibitions on Syria (Aug 18, 2011)
IRAQ & AFGHANISTAN
• Began the phased withdrawal of US troops from Iraq (2009); fulfilled campaign promise to have combat troops (90,000) out of Iraq by August 31, 2010; over 100,000 combat troops withdrawn by late 2010; continuing the withdrawal (2011) Note: Troops were completely withdrawn from Iraq by the end of December of 2011 – 3 months after this document was fact-checked.
• Authorized the deployment of 17,000 additional troops to Afghanistan, which had been pending for months during the Bush Administration (2009); begin withdrawal of troops from Afghanistan (August 2011)
• Changed the US military command in the Afghan conflict (2009)
• Tasked the Pentagon to reorganize US policy in Afghanistan; the new policy included 30,000 additional troops deployed, priority training of Afghan forces, developing agriculture and infrastructure, limiting aerial bombing, etc. (2009-2010)
• Ordered the Pentagon to send additional helicopters to assist US Marine units and Special Forces in Afghanistan (2009)
• Increased unmanned drone strikes on Taliban and al-Qaeda targets in Afghanistan (2009-2011)
• Ended the Bush-era "stop-loss" policy that kept soldiers in Iraq/Afghanistan longer than their enlistment date (2009)
• Visited US soldiers in Afghanistan (2010)
MILITARY & VETERANS
• Ordered the Pentagon to cover expenses of families of fallen soldiers if they wish to be on site when the body arrives back in the US (2009)
• Ended the Bush-era "blackout" imposed on media coverage of the return of fallen US soldiers (2009) * Note: The media is now permitted to cover the story pending adherence to respectful rules and with the approval of the fallen soldier's family
• Ended the Bush-era "black out" policy on media coverage of war casualties (2009) * Note: Full information is now released for the first time in the War on Terror
• Ordered better body armor to be procured for US troops (2009)
• Signed Korean War Veterans Recognition Act (July 27, 2009)
• Signed Veterans Health Care Budget Reform and Transparency Act (Oct 22, 2009)
• Funding new Mine Resistant Ambush Vehicles (2009) * Note: The old Hummers were very vulnerable to roadside explosives and an alarming percentage of our soldiers lost in Iraq were on account of IEDs
• Increasing pay and benefits for military personnel (2009-2010)
• Improving housing for military personnel (2009-2010)
• Signed Veterans Health Care Budget Reform and Transparency Act (Oct 22, 2009)
• Signed Military Spouses Residency Relief Act (Nov 11, 2009)
• Expanded veterans' reimbursement for non-VA emergency care (2009 & 2010)
• Initiating a new policy to promote federal hiring of military spouses (2009-2010)
• Ordered that conditions at Walter Reed Military Hospital and other neglected military hospitals be improved (2009)
• Beginning the process of reforming and restructuring the military to a post-Cold War, modern fighting force (2009-2011) * Note: Bush announced in 2001 his intention to do this but backed off the reforms after 9/11, which include: new procurement policies; increasing the size of Special Ops units; deploying new technologies; creating new cyber security units; etc.
• Ended the Bush-era practice of awarding "no-bid" defense contracts (2009)
• Improving VA staffing, information systems, etc. (2009)
• Authorized construction of additional health centers to care for veterans (2009-2011)
• Suspended the Bush-era decision to purchase a fleet of Marine One helicopters from foreign suppliers in favor of American-made helicopters (2009)
• Ordered a review of the existing "Don't ask, don't tell" policy on gays in the military (2010) Note: President Obama signed the Don't Ask, Don't Tell Repeal Act of 2010 on December 22, 2012 shortly after this list was fact-checked.
• Supports for blinded veterans (April 7, 2010); improvements in services for blind veterans; established Major Charles R. Soltes Blind Rehabilitation Center within the Department of Veterans Affairs (May 7, 2010)
• Increased cost-of-living adjustment and compensation for veterans (Sept 30, 2010)
• New GI Bill for returning veterans from Iraq and Afghanistan (2009-2011)
• Signed bill providing assistance for caregivers of veterans wounded in Iraq and Afghanistan (2010); signed Caregivers and Veterans Omnibus Health Services Act (April 23, 2010) * Note: The omnibus bill does the following: Training, funding, and counseling for caregivers; promoting pilot childcare programs for women vets under treatment at the VA; independent oversight to prevent abuse; readjustment counseling for National Guard and reservist units; etc.
• Eliminated co-payments for veterans who are catastrophically disabled (2010)
• Established enforcements for minimum essential care for veterans (May 27, 2010)
• Established a new interagency task force to assist veterans owning small businesses (2010) * Note: The efforts include promoting federal contract opportunities, improve access to loans and capital, mentor assistance programs, etc.
• Signed The Families of Fallen Heroes Act, which covers the moving costs of immediate family members of those lost in service (military, intelligence, and security personnel) (2010)
• Signed the For Vets Act (Dec 22, 2010)
• Measure to help prevent military families and vets from losing their homes (Dec 29, 2010)
• Proposal to offer tax breaks for businesses that hire unemployed Iraq/Afghanistan veterans; job training support for Iraq/Afghan vets (2011)
• Signed Restoring GI Bill Fairness Act (Aug 3, 2011)
NATIONAL SECURITY
• Phasing out the expensive F-22 war plane (which wasn't even used in Iraq/Afghanistan) and other outdated weapons systems (2009)
• Announced his intention to close the detention facility at Guantanamo Bay (2009) * Note: The closure has been delayed due to opposition but it remains on the agenda.
• Stated his interest in housing terrorists at a new federal "super max" facility in the US (2009) * Note: this has been delayed due to opposition but it remains on the agenda
• Cut the expensive Reagan-era missile defense program, saving $1.4 billion in 2010 (2009)
• Cancelled plans to station anti-ballistic missile systems in Poland and the Czech Republic (2009)
• Signed Weapons Systems Acquisition Reform Act (May 22, 2009)
• Replacing long-range, expensive missile systems with more efficient smaller systems (2009-2010)
• Increased US Navy patrols off the Somali coast in response to pirating (2009-2010)
• Established a new cyber security office and appointed a cyber security czar (2009)
• Ordered the first nation-wide comprehensive cyber threat assessment (2009)
• Signed a one-year extension on some provisions of the controversial PATRIOT Act (2009;and again on Feb 27, 2010 and May 26, 2011)
• Authorized the use of more unmanned warplanes/drones (Predator, Reaper, etc.) in the War on Terror (2009); eliminated more terrorist targets in same time period than the Bush Administration
• Instituted a new Nuclear Posture Review, revising US nuclear deterrence policy to encourage more nations to join the 1996 Comprehensive Test Ban Treaty (2010) * Note: Components of the policy include: a pledge to stop nuclear testing; a pledge to not build a new generation of nucs; identifying nuclear terrorism, rather than a launch from another nuclear state, as the major threat; a pledge to not use nucs on a non-nuclear state in a conventional conflict; etc.
• Signed Executive Orders to block payment, transfers, exports, etc… of individuals and organizations supporting the regimes of North Korea, Iran, Somali pirates, and other foreign threats (2010)
• Signed Comprehensive Iran Sanctions, Accountability, and Divestment Act (July 1, 2010); signed related measures for sanctions and divestment Act to deal with other foreign regimes like North Korea (2010)
• Additional funds and supports for southwest border security (Aug 13, 2010)
• Signed First Responder Anti-Terrorism Training Resources Act (Sept 30, 2010)
• Presidential Memoranda to extend certain provisions of The Trading with Enemies Act which was to expire in September 2010 (2010) * Note: This includes freezing assets and banning trade that benefits the Cuban regime; however further efforts at normalizing travel to Cuba are supported
• Signed bill for southwest border security and increased funds and agents on the Mexican border (2010)
• Ordered another review of efforts to close Guantanamo Detention Facility (Jan 22, 2011); review of unlawful interrogations (Jan 22, 2011); review of Guantanamo detainees (March 7, 2011)
• Authorized bombing of military targets in Libya in support of rebels; support NATO mission against Qaddafy regime (winter 2011)
• Many terrorists and senior leaders of al-Qaeda and the Taliban have been killed on Obama's orders and on his watch (Osama bin Laden, Anwar al-Awlaki, Abus Hafs al-Shahri, Atiyah Abd al-Rahman, Ammar al-Wa'ili, Abu Ali al-Harithi, Ali Saleh Farhan, Harun Fazul, Baitullah Mahsud, Noordin Muhammad Top, Saleh Ali Saleh Nabhan, Saleh al-Somali, Muhammad Haqqani, Qari Zafar, Hussein al-Yemeni Dulatin, Abu Ayyub al-Masri, Abu Omar al-Baghdadi, Sheik Saeed al-Masri, Hamza al-Jawfi, etc.; many others were captured including Abdul Ghani Berader, Younis al-Mauritani, etc.)
(Visited 67 times, 1 visits today)