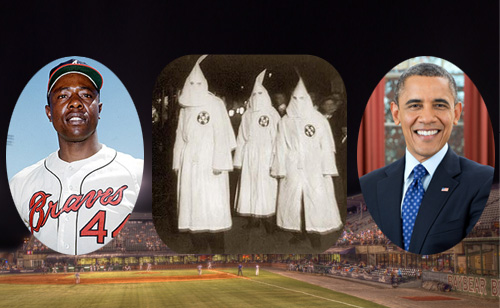 Speaking on the 40th  anniversary of his record breaking home run, Baseball Hall of Famer Hank Aaron spoke to USA Today about race relations in America.
Aaron told the paper that the country still has a long way to go when it comes to race relations and went on to compare critics of President Obama to the KKK.
We can talk about baseball. Talk about politics. Sure, this country has a black president, but when you look at a black president, President Obama is left with his foot stuck in the mud from all of the Republicans with the way he's treated.

We have moved in the right direction, and there have been improvements, but we still have a long ways to go in the country.

The bigger difference is that back then they had hoods. Now they have neckties and starched shirts.
Aaron went on to speak of keeping up with issues such as the lack of black CEOs running large corporation and speaks of reading about the Trayvon Martin case. He goes on to say that baseball is going backwards when it comes to black players:
"When I first started playing, you had a lot of black players in the major leagues. Now, you don't have any (7.7% of big-leaguers last season). So what progress have we made? You try to understand, but we're going backward."
Be sure to read the full article, 40 years later, Hank Aaron's grace a beauty to behold.
(Visited 110 times, 1 visits today)