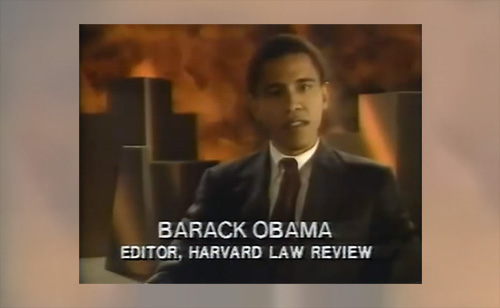 In this edition of Flashback Friday, we see a 29-year-old, Barack Obama in a television commercial for TBS' Black History Month.
The editor in chief for the Harvard Law Review at the time, Obama talked in the video about Charles Hamilton Houston, who was an NAACP legal director and Howard Law School professor.
Believed to be Obama's first ever national appearance, "The video was first uploaded to YouTube on Thursday, by Andy Kaczynski, a 21-year-old history major at St. John's University who has interned for the Republican National Committee. He found the video tucked away in an obscure message board," as reported by The Nation.
"I realized there seemed to be a lack of Obama videos from 1990 to 2004," Kaczynski told The Nation, adding, "I decided to do some research to see what I could find."
You can watch the clip, below, from Kaczynski's YouTube page.
(Visited 93 times, 1 visits today)