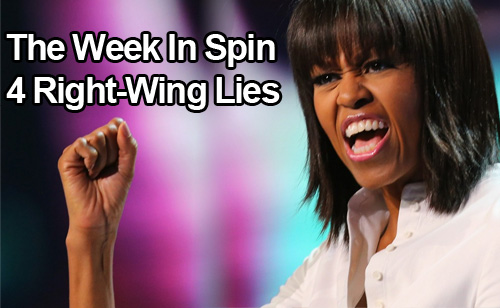 We are starting a new weekly feature called "The Week in Spin", which will detail our favorite right-wing lies of the week, as found on social media and on right-wing websites.
1. THE LIE: VIDEO: Did Michelle Obama Admit That Sarah Palin is Smarter Than Barack?, found on the Tea Party News Network.
First Lady Michelle Obama joked that "women are smarter than men" at the U.S. Africa Leaders Summit held in Washington D.C. on Wednesday during an interview with Laura Bush, conducted by Cokie Roberts. [You can watch the video here.] Somehow, The Tea Party News Network (TPNN) connects that comment to Sarah Palin's intelligence in the title of an article, leading to over 29,000 Facebook shares – and counting.
TPNN went on to make the following strange connection in the article itself:
Perhaps Michelle should have brought up that argument during the height of the Democrat demonization and degradation of former Alaska Governor and 2008 GOP Vice Presidential candidate Sarah Palin.
2. THE LIE: Target tells shoppers it's going 'gay', found on WorldNetDaily.
Known for publishing articles that have created controversies and criticism, WorldNet Daily (WND) spun a story about Target signing onto an friend-of-the-court (amicus) brief in support of marriage equality which is currently pending in the Seventh Circuit.
WND begins by writing:
Another major American company has gone "gay," with Target officially signing onto a court action seeking to strike down the definition of marriage as one man and one woman. [emphasis added]
WND goes on to connect that brief to the absurd, as in the following example:
Carey B. Hall, citing the company's emphasis on marriage "equality," said: "The next marriage equality: marry your dog, two couples being married to each other. Three people being married … the people have endless ideas on marriage equality … one perversion leads to another, that's just how SIN is." [emphasis added]
3. THE LIE: Obama Homeland Security Official Arrested for Trying to Give 13-Year-Old Sex Lessons, found on the Tea Party News Network (TPNN).
In another slight-of-hand, TPNN connects President Obama to the arrest of a low-level Department of Homeland Security inspector in Northern California. TPNN creates this linkage in both the title and the article itself, which notes:
An Obama Homeland Security TSA Inspector, George Hristovski, of Elverta in Northern, California, was arrested by the FBI after he allegedly sought to have sex with a mother and her 13-year-old daughter. [emphasis added]
In truth, the Department of Homeland Security employs more than 240,000 individuals in "jobs that range from aviation and border security to emergency response, from cybersecurity analyst to chemical facility inspector." Further, the agency encompasses a multitude of departments and components to include: United States Citizenship and Immigration Services (USCIS), United States Customs and Border Protection (CBP), United States Coast Guard (USCG), Federal Emergency Management Agency (FEMA), Federal Law Enforcement Training Center (FLETC), United States Immigration and Customs Enforcement (ICE), Transportation Security Administration (TSA), United States Secret Service (USSS), Management Directorate, National Protection and Programs Directorate (NPPD), Science and Technology Directorate (S&T), Domestic Nuclear Detection Office (DNDO), Office of Health Affairs (OHA), Office of Intelligence and Analysis (I&A), Office of Operations Coordination and Planning, and the Office of Policy.
The result for TPNN? over 13,000 Facebook shares so far.
4. THE LIE: 40 YEARS LATER, 'PLUMBER' SPILLS BEANS IN WATERGATE SCANDAL G. Gordon Liddy: 'I saw Democrats as being dangerous to the country,' found on WorldNetDaily.
The WND article began innocuously enough noting:
Saturday marks 40 years since Richard Nixon resigned the presidency over the Watergate scandal. The saga began more than two years earlier, in June 1972. A group of political operatives known as the plumbers broke into the Democratic National Committee headquarters in the Watergate complex in Northwest Washington.
However, in an incredible piece of spin, G. Gordon Liddy tells WND a new version of the story in an exclusive interview:
So what were they looking for? In 1972, President Nixon was bracing for a re-election fight against Democratic Sen. George McGovern. While many believe the plumbers were looking for campaign secrets and strategies, Liddy said the break-in had a very different goal.

"The FBI was investigating not one, not two, but three separate call girl operations back then. The assistant United States Attorney who was in charge of that was a man named John Rudy. He testified that the FBI came to him and said, 'We have found a connection between (the DNC and) the call-girl ring that's being run out of the Columbia Plaza Apartments, which is across the street from the Democratic headquarters," Liddy said. [emphasis added]
The article ends with the following justification:
More than 40 years after the Watergate saga began, Liddy made it clear he has few regrets about the episode. He said he had good reasons to break the law and those reasons have since been validated again and again.

"I saw Democrats as being dangerous to the country," he said. "I see the Democrats now as being even more dangerous to the country. I wanted to prevent them from being able to damage the country further. So I chose to make use of the special knowledge that I had as a result of the FBI and so forth. That was it."
In January 1972, G. Gordon Liddy, general counsel to the Committee for the Re-Election of the President (CRP), presented a campaign intelligence plan to CRP's Acting Chairman Jeb Stuart Magruder, Attorney General John Mitchell, and Presidential Counsel John Dean, that involved extensive illegal activities against the Democratic Party. Mitchell viewed the plan as unrealistic, but two months later is alleged to have approved a reduced version of the plan which involved burglarizing the Democratic National Committee's (DNC) headquarters at the Watergate Complex in Washington, D.C., the ostensible purpose of which was to photograph documents and install listening devices. Liddy was nominally in charge of the operation, but has since insisted that he was duped by Dean and at least two of his subordinates. These included former CIA officers E. Howard Hunt and James McCord, then-CRP Security Coordinator (John Mitchell had by then resigned as Attorney General to become chairman of the CRP).

Two phones inside the offices of the Democratic National Committee headquarters were wiretapped. One of those phones was the phone of Robert Spencer Oliver who at the time was working as the executive director of the Association of State Democratic Chairmen and the other was the phone of the secretary of Democratic National Chairman Larry O'Brien.

After 2 attempts to break into the Watergate Complex failed to yield information of value, the order for yet another break-in was given to Liddy by Jeb Magruder, either acting on his own or on orders from Dean.

Shortly after midnight on June 17, 1972, Frank Wills, a security guard at the Watergate Complex, noticed tape covering the latches on doors in the complex (allowing the doors to close but remain unlocked). He removed the tape, and thought nothing of it. He returned an hour later, and having discovered that someone had retaped the locks, Wills called the police. 5 men were discovered and arrested inside the DNC's office. They were Virgilio González, Bernard Barker, James McCord, Eugenio Martínez, and Frank Sturgis, who were charged with attempted burglary and attempted interception of telephone and other communications. On September 15, a grand jury indicted them, as well as Hunt and Liddy, for conspiracy, burglary, and violation of federal wiretapping laws. The five burglars who broke into the office were tried by Judge John Sirica and convicted on January 30, 1973.
Please take a moment and Like Liberals Unite on Facebook.

(Visited 39 times, 1 visits today)