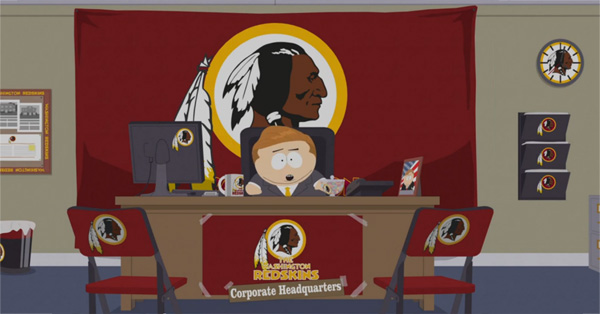 The NFL has been the subject of much public debate lately and Comedy Central's 'South Park' is taking aim at the Washington Redskins name controversy.
Creators Matt Stone and Trey Parker have released a teaser for the show's 18th season, premiering Wednesday.
The one-minute teaser depicts Washington Redskins owner Daniel Snyder, head coach Jay Gruden and quarterback Robert Griffin III confronting Eric Cartman for naming a business the Washington Redskins.
Cartman responds to them advising:
"When I named my company Washington Redskins, it was out of deep appreciation for your team and your people."
As Variety reports, "In July, a U.S. patent office ruled the Redskins name "disparaging to Native Americans," and the NFL team was stripped of its trademark of the name — leaving it free for Cartman to jump on."
You can watch the teaser below, courtesy of South Park Studio's YouTube page.
(Visited 29 times, 1 visits today)