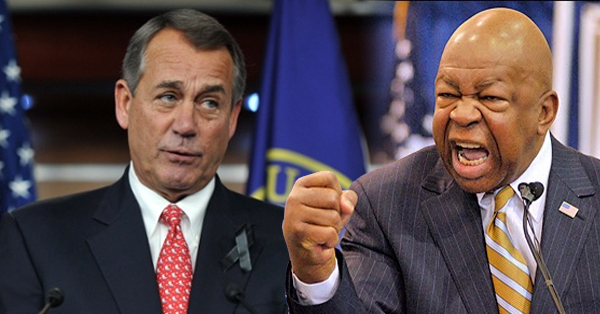 Last Friday, a mere two weeks after the mid-term elections, the Republican-led House Select Committee on Intelligence released its final report on the deadly 2012 attack on the U.S. Consulate in Benghazi, Libya, clearing the administration of any wrong-doing.
The investigation took over two years and thousands of hours of "asking questions, poring over documents, reviewing intelligence assessments, reading cables and emails" and holding "a total of 20 committee events and hearings," and according to Republican Committee Chair Rep. Mike Rogers (R-MI) was supposed to serve as the final word from the House.
This report, and the nearly two years of intensive investigation it reflects, is meant to serve as the definitive House statement on the Intelligence Community's activities before, during, and after the tragic events that caused the deaths of four brave Americans.
However, unsatisfied with the committee's findings and hoping to hurt Hillary Clinton's chances in the 2016 presidential campaign, Speaker of the House John Boehner announced on Monday that he is reappointing Republican Trey Gowdy of South Carolina to head the Select Committee on Benghazi next Congress, the eighth full investigation into the incident.
However, in announcing that appointment, Boehner has named a chair to a committee that does not exist. Since the Benghazi committee is a select committee and not a permanent one the House will have to vote to reauthorize the committee when it returns for the new session in January.
However, Yahoo News reports that "a vote to re-create the committee certainly would draw criticisms from skeptical Democrats who say they are ready to point to the multiple other reports that have already been completed and the cost of the Benghazi panel to finish work that's been done by many others."
As Liberals Unite reported last July House Republicans asked for an additional $3.3 Million this year for their latest Benghazi investigation which is more money than the House Veterans Affairs and Ethics committees were budgeted for the entire year. And this $3.3 Million was in ADDITION to the money that this committee has already spent on the new investigation. If you add this to what they've already spent since May (on just this ONE panel) they are exceeding $5 Million.
To put that into perspective, the entire House Intelligence Committee doesn't even spend that much. They spent $4.1 Million last year. And also keep in mind that these figures for the Benghazi investigation only apply to this latest hearing. It doesn't include all of the other Benghazi witch hunts that have already been done by other House committees, which include:
Foreign Affairs
Intelligence
Oversight and Government Reform
Armed Services
So including the over $14 Million spent on these previous hearings, the House GOP is now quickly approaching the $20 million mark. And because much of the money spent on this is being moved from committee to committee, it is impossible to calculate how much higher the real cost truly has reached.
Rep. Elijah Cummings (D-MD) released a statement last week after the final report from the House Select Committee on Intelligence was saying there was no reason for continued hearings on Benghazi:<
"After an exhaustive bipartisan investigation that spanned nearly two years, the House Intelligence Committee now unanimously agrees that the CIA talking points reflected conflicting intelligence assessments in the days immediately following the attacks and that there is no evidence that the intelligence community shipped arms to Syria," Cummings said. "Based on these unanimous, bipartisan findings, there is no reason for the Benghazi Select Committee to reinvestigate these facts, repeat the work already done by our Republican and Democratic colleagues, and squander millions of additional taxpayer dollars in the process."
So what is driving Republicans to continue this farce – I mean besides the obvious? As Mindy Fischer reported in July,
There are two reasons. First they want to rile up their extremist base so that they show up at the polls…. Obviously the only people who will pay attention to this ridiculous stunt are people who will vote Republican anyway, but the only way to ensure that they all show up to vote, is to keep them inflamed.

The second reason is that they are raising a lot of money off of Benghazi. The GOP has been fundraising off this tragedy for almost 2 years now, and it has proven to be quite profitable. Isn't it too bad that they can't just use the donor money instead of tax payer dollars to fund this Benghazi stunt?
(Visited 18 times, 1 visits today)