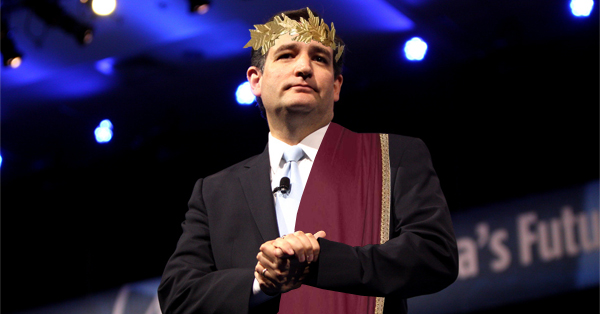 Last Thursday, President Obama announced his executive actions to fix an immigration system that has been broken for decades and Junior Senator Ted Cruz (R-TX) has taken to the airwaves and the internet to defy those actions and a president he describes as a monarch.
Cruz is vowing to seize control and strip Obama's power to execute those orders – in effect, becoming the tyrant he claims to despise. He has made this claim during an interview on Fox News Sunday, in a Politico article he penned a day before the President's immigration speech, on his website and in various posts on his Facebook page.
His plan includes taking control of the government by force using the following two strategies:
1) "Step number one that I have called for is the incoming majority leader should announce if the president implements this lawless amnesty, that the Senate will not confirm any executive or judicial nominees, other than vital national security positions, for the next two years, unless and until the president ends this lawless amnesty."
2) "Additionally, the new Congress should exercise the power of the purse by passing individual appropriations bills authorizing critical functions of government and attaching riders to strip the authority from the president to grant amnesty."
His justification is two-fold:
1) The 2014 election "was a referendum on amnesty. And the American people overwhelmingly said … we don't want amnesty."
2) The President's actions were "lawless" and "unconstitutional" that "if he acts by executive diktat, President Obama will not be acting as a president, he will be acting as a monarch."
ANALYSIS
The claim that the American people overwhelmingly said
they "don't want amnesty" during the 2014 elections
As PolitiFact.com reported last week, "No one would question that the Republicans delivered a massive electoral victory in the 2014 midterm elections, and the party's dominant position against … legalized status for illegal immigrants was hardly a state secret."
Phil Novack, deputy press secretary for Cruz stated that "The poll that counts is at the ballot box," and "In 2015 Republicans will control more legislative seats nationwide than anytime since the 1920s. Across the country, Republican candidates were united with a message to … stop Obama's amnesty, and the American people delivered a clear mandate" on that priority.
However, as PolitiFact.com points out "the best way to measure how voters on election day actually felt — which is what Cruz's claim refers to — is to use responses to the national exit poll."
Every two years, a consortium of media outlets collectively samples opinion across the country on Election Day, either as voters leave the polls or through a supplemental phone survey of those who voted early or by absentee ballot. The 2014 exit poll results are summarized here.
Looking to the exit poll regarding amnesty, PolitiFact.com reported that
The exit poll asked respondents to complete this sentence: "Should most illegal immigrants working in the United States be. …" with one of two options. "Offered a chance to apply for legal status" was chosen by 57 percent of respondents, while "deported to the country they came from" was the choice of 39 percent.
Were the President's actions lawless and unconstitutional?
As CNBC reports,
Executive orders are as old as the U.S. Constitution itself and usually steeped in controversy.

Every president, from George Washington to Obama, has used them. More than 13,000, in one form or another, have been issued since 1789.

While there is no specific provision in the Constitution that permits them, there is a "grant of executive power" given in Article II of the Constitution.
At its core, what we are talking about when debating the President's immigration actions is "prosecutorial discretion" which has the full backing of the over 100 law professors AND has been upheld by the Supreme Court.
Basically, what the President is proposing is an extension of his earlier "policy directive" known as the Deferred Action for Childhood Arrivals Initiative from July of 2013 that directed the Department of Homeland Security to "exercise prosecutorial discretion as appropriate to ensure that enforcement resources are not expended on low priority cases, such as individuals who came to the United States as children."
As MSNBC reported last week, "the legality of prosecutorial discretion is clear, according to over 100 law professors who specialize in immigration, and who signed a joint memo in September on the issues involved," which read in part:
"The application of prosecutorial discretion to individuals or groups is grounded in the Constitution, and has been part of the immigration system for many years. Furthermore, court decisions, the immigration statute, regulations and policy guidance have recognized prosecutorial discretion dating back to at least the 1970s. Notably, in 2012, the U.S. Supreme Court reiterated: 'A principal feature of the removal system is the broad discretion exercised by immigration officials … Federal officials, as an initial matter, must decide whether it makes sense to pursue removal at all…'"
Is there precedence for the President's actions?
Henry Fernandez reports for MSNBC that "every president since Dwight D. Eisenhower has taken executive action on immigration."
The American Immigration Council has identified a total of 39 times since 1956 that presidents have used their authority to grant relief to immigrants. Sometimes the impacted group represented a small number of people, like when President Reagan granted Extended Voluntary Departure to 7,000 Poles in response to the Polish government declaring martial law, or when President George W. Bush granted deferred enforcement departure to 3,600 Liberians in 2007. Other executive actions have had a larger impact, like the series of actions that granted amnesty to 621,403 Cubans between the presidencies of Eisenhower and Nixon, or those that granted relief to 360,000 Vietnamese, Laotians and Cambodians under Presidents Ford and Carter.

In many of these cases, the presidents involved acted because Congress failed to do so. Legislative inaction is what prompted President George H.W. Bush in 1990 when he deferred deportation of up to 1.5 million children and spouses of several million people previously granted legal status under President Reagan's Immigration Reform and Control Act. Bush took executive action when the House delayed a bill passed by the Senate which addressed these families.
CONCLUSION:
Simple – as we reported last week:
Bottom line: President Obama has history, legal precedent, and Presidents Eisenhower, Kennedy, Johnson, Nixon, Ford, Carter, Reagan, Bush Sr., Clinton and Bush Jr. on his side.
(Visited 25 times, 1 visits today)