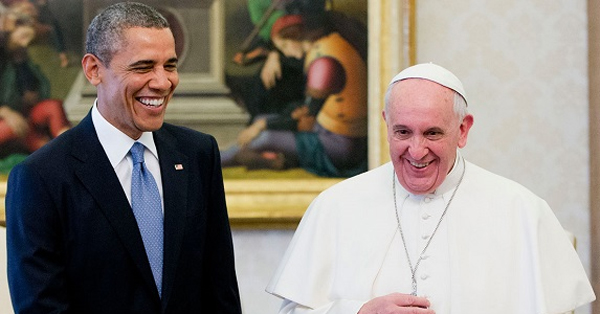 President Barack Obama made history again today with the announcement that the U.S. will normalize relations with Cuba for the first time in 50 years.
This will mean both countries will loosen travel restrictions, re-open their embassies and the economic embargo will relax. It will take cooperation from Congress to completely dismantle and do away with the embargo.
Pope Francis facilitated the deal, according to reports, and a "key meeting" took place at the Vatican earlier this year. In fact, a senior administration official told USA Today that Pope Francis was "directly involved in the talks."
The Pope released a statement congratulating both Cuba and the U.S. for this landmark agreement.
But not everyone was happy about this latest development. Sen. Marco Rubio (R-FL) had some harsh words for the deal and the Pope. Rubio, who is Catholic and Cuban-American, said that he would "ask His Holiness to take up the cause of freedom and democracy, an added that he thought "the people of Cuba deserve to have the same chances at democracy as the people of Argentina have had, where he's from."
Perhaps you remember that Sen. Rubio was criticized by The Washington Post in 2011 for embellishing details about his parents' emigration from Cuba for political gain.
Please take a moment and Like Kimberley A. Johnson on Facebook.

(Visited 22 times, 1 visits today)