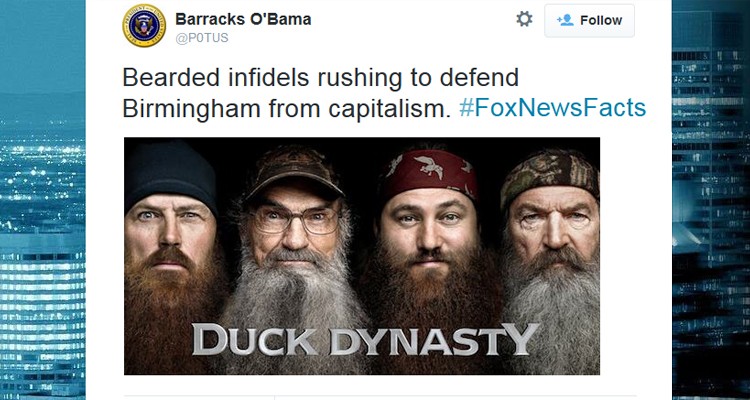 The Twittersphere exploded this weekend with the hashtag #FoxNewsFacts after self-proclaimed "terrorism expert" Steve Emerson told Fox News host Jeanine Pirro that Birmingham, England, is closed to non-Muslims.
Emerson, who heads The Investigative Project on Terrorism, told Pirro that in Britain "there are actual cities like Birmingham that are totally Muslim where non-Muslims just simply don't go in."
This is a curious claim considering the latest Population and Census information provided by the City's official website:
Birmingham is a diverse city
Around 42% of our residents were from an ethnic group other than White.
46.1% of Birmingham residents said they were Christian, 21.8% Muslim and 19.3% had no religion.
22% of our residents were born outside the UK, compared with 14% in England and 11% in the West Midlands region.
Emerson apologized for his comments late Sunday nightin the wake of the Twitter explosion, telling ITV News:
I have clearly made a terrible error for which I am deeply sorry.

My comments about Birmingham were totally in error.

And I am issuing an apology and correction on my website immediately for having made this comment about the beautiful city of Birmingham.

I do not intend to justify or mitigate my mistake by stating that I had relied on other sources because I should have been much more careful.

There was no excuse for making this mistake and I owe an apology to every resident of Birmingham.

I am not going to make any excuses. I made an inexcusable error. And I am obligated to openly acknowledge that mistake.

PS. I intend to make a donation to a Birmingham charity called the Birmingham Children's Hospital
Below is a clip of Emerson talking to Fox News followed a few of our favorite posts on Twitter:
Dancing is banned as Unislamic in the UK and the Queen personally beheads those guilty of promoting it #foxnewsfacts pic.twitter.com/cbV6abUxtw

— Tapio (@LordShropshire) January 12, 2015
Islamic head coverings now prevalent across Britain #foxnewsfacts pic.twitter.com/NchCzCdTm7

— Chris Kennett (@chriskennett) January 12, 2015
"Unlike the Middle East, they drive their camels on the left side of the road in Birmingham" #FoxNewsFacts pic.twitter.com/1cpvhrxCZN

— Barracks O'Bama (@P0TUS) January 11, 2015
The reclusive leader of the radical terrorist sect that controls Birmingham. #FoxNewsFacts pic.twitter.com/m30yWVNz6F

— Steve Peers (@StevePeers) January 11, 2015
molana dumbledore rehmatullah,after accepting Islam,turned Hogwarts into a radical terrorised madrasah #foxnewsfacts pic.twitter.com/65qSSG4CYE

— Harem. (@haemerys) January 12, 2015
#FoxNewsFacts Burger King to be renamed due to the increase in Muslim population pic.twitter.com/v9XzQBkDRT

— Jewman (@jumanutd) January 11, 2015
In Birmingham, the local death squads go by the name of Quran Quran. #foxnewsfacts pic.twitter.com/xHXFtPUHxZ

— David Jack (@DamJef) January 11, 2015
– Steve Emerson
(Visited 40 times, 1 visits today)