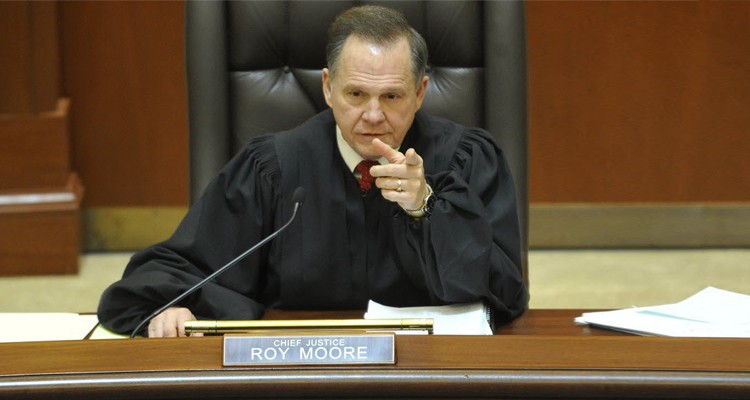 UPDATE, February 09, 2015 at 10:33 AM EST: The Associated Press reports that "Jefferson County probate judge Alan King issued a license to two women shortly after the U.S. Supreme Court denied the Alabama attorney general's request to extend a hold on a federal judge's ruling overturning the state's ban on gay marriage." This was in spite of Alabama Chief Justice Roy Moore's 11th-hour attempt to keep the weddings on hold through his Sunday night order to probate judges to refuse to sign same-sex marriage licenses.
According to The Associated Press, "King says he was abiding by the federal court order from January that determined Alabama'sstatutory and constitutional bans on gay marriage were unconstitutional. U.S. District Judge Callie Granade had put her order on hold until Monday to let the state prepare for the change."
---
With hours left before Alabama was to become the 37th state where gays can legally wed, Alabama Chief Justice Roy Moore set the stage for a possible showdown  with the federal courts by issuing a letter to probate judges ordering them to comply with existing state law and to refuse to issue same-sex marriage licenses.
As Al.com reported, "On Jan. 23, U.S. District Judge Callie V.S. "Ginny" Granade ruled the state's constitutional ban on same-sex marriage and recognition of same-sex marriages entered in other states was unconstitutional. She issued a stay, putting her ruling on hold until Feb. 9." However, since then Moore has asserted several times that the order does not apply to probate justice, including a letter to Governor Robert Bentley advising him t0 use his powers as the state's chief executive officer to block same-sex marriage.
Writing that judges weren't bound by a federal judge's January 23rd ruling that Alabama's same-sex marriage ban was unconstitutional, Moore wrote his order late Sunday night, writing:
Effective immediately, no probate judge of the state of Alabama nor any agent or employee of any Alabama probate judge shall issue or recognize a marriage license that is inconsistent with (the Alabama Constitution). [citations deleted]
Moore also wrote in his order that if any probate judge, the Governor would be responsible to ensure state law is "faithfully executed:
Should any Probate Judge of this state fail to follow the Constitution and statutes of Alabama as stated, it would be the responsibility of the Chief Executive Officer of the State of Alabama, Governor Robert Bentley, in whom the Constitution vests "the supreme executive power of this state" to ensure the execution of the law. "The Governor shall take care that the laws be faithfully executed. If the governor's 'supreme executive power' means anything, it means that when the governor makes a determination that the laws are not being faithfully executed, he can act using the legal means that are at his disposal."
The Montgomery Advertiser reported that "Jennifer Ardis, a spokeswoman for the governor, said Sunday evening Bentley's office would have a comment on Moore's letter on Monday."
CBS News reported that "Susan Watson, executive director The American Civil Liberties Union of Alabama, called the move by the conservative chief justice 'grandstanding' and predicted licenses would be issued shortly" in a statement late Sunday.
We will see marriage equality in Alabama tomorrow. I don't think the probate judges in Alabama are going to defy a federal court judge's order.
CBS added that "The ACLU has established a hotline for couples to report if they are refused a license. Watson said the ACLU will be at courthouses across the state, not just to be prepared for problems, but to hand out balloons and gifts to joyful couples."
"I think it will really be pretty simple. Hopefully we will be able to hand out a lot of wedding favors," Watson said.
Randall Marshall, attorney for ACLU of Alabama, called the order "a last minute gasp."
I am not aware of anything that gives him the authority to tell probate judges what to do … If he had that authority he would have claimed it much earlier than now.
Human Rights Campaign Legal Director Sarah Warbelow was quoted by AL.com as saying:
This is a pathetic, last-ditch attempt at judicial fiat by an Alabama Supreme Court justice–a man who should respect the rule of law rather than advance his personal beliefs . Absent further action by the U.S. Supreme Court, the federal ruling striking down Alabama's marriage ban ought to be fully enforced, and couples that have been waiting decades to access equal marriage under the law should not have to wait a single day longer. All probate judges should issue licenses tomorrow morning, and Chief Justice Roy Moore ought to be sanctioned.
The Montgomery Advertiser reported that
Moore has tangled with federal courts in the past. In 2003, Moore, serving his first term as the state's chief justice, refused an order from U.S. District Judge Myron Thompson to remove a monument of the Ten Commandments from the Alabama Judicial Building. Moore's defiance led to his removal as chief justice later that year.
That action was brought by the Southern Poverty Law Center, who lodged a complaint with the Judicial Inquiry Commission at the time and they have already filed two complaints against Moore with the Commission about the letter he wrote to Gov. Bentley, as well as a 27-page memorandum sent to probate judges instructing them that marriage licenses for same-sex couples are illegal under Alabama law.
Richard Cohen, president of the Southern Poverty Law Center, who filed those ethics complaint against Moore over his public statements on same-sex marriage, accused Moore of "creating a crisis in our state."
The Court of Appeals and, so far, the Supreme Court of the United States has seen fit not to continue the stay. But, instead of respecting these rulings, the Chief Justice has decided to create a crisis in our state but telling the probate judges to ignore the ruling of the district court and threatening them with unspecified gubernatorial action. It's outrageous. We urge the probate judges to follow the Constitution of the United States and issue marriage licenses when their offices open in the morning. Chief Justice Moore has no authority to tell them to do otherwise.
Reaction from state probate judges remains mixed, but AL.com reported late Sunday that Jefferson County Probate Judge Alan King said:
My inclination at this point is to follow Judge Granade's order. But a final decision will be made before 8 a.m. I only found out Justice Moore had issued his order a little before 10 p.m. At first glance, my legal analysis is do we in Jefferson County follow a valid federal court order or do we follow an order by one member, albeit the chief justice, of the Alabama Supreme Court?
AL.com also reported that "An attorney for plaintiffs Cari Searcy and Kim McKeand, the couple at the center of the ruling ending the ban, called Moore's order a 'George Wallace move,' adding that he cannot think of a more direct act of defiance off the federal government since the former governor's famous stand in the schoolhouse door."
UPDATE, February 09, 2015 at 11:00 AM EST:

A same-sex wedding about to begin in Birmingham. pic.twitter.com/OyGeB74xqk

— Alan Blinder (@alanblinder) February 9, 2015
(Visited 28 times, 1 visits today)