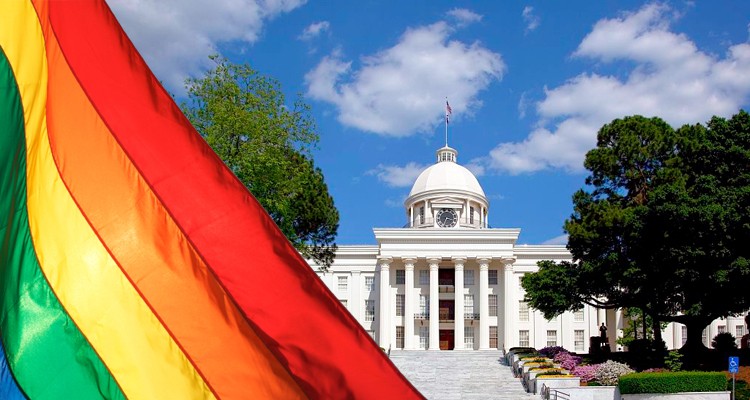 UPDATE, February 09, 2015 at 10:33 AM EST: The Associated Press reports that "Jefferson County probate judge Alan King issued a license to two women shortly after the U.S. Supreme Court denied the Alabama attorney general's request to extend a hold on a federal judge's ruling overturning the state's ban on gay marriage." This was in spite of Alabama Chief Justice Roy Moore's 11th-hour attempt to keep the weddings on hold through his Sunday night order to probate judges to refuse to sign same-sex marriage licenses.
According to The Associated Press, "King says he was abiding by the federal court order from January that determined Alabama'sstatutory and constitutional bans on gay marriage were unconstitutional. U.S. District Judge Callie Granade had put her order on hold until Monday to let the state prepare for the change."
---
With hours left before Alabama was to become the 37th state where gays can legally wed, Alabama Chief Justice Roy Moore set the stage for a possible showdown  with the federal courts by issuing a letter to probate judges ordering them to comply with existing state law and to refuse to issue same-sex marriage licenses.
His order was in response to a January 23rd ruling by U.S. District Judge Callie Granade, who ruled the state's constitutional ban on same-sex marriage was unconstitutional. She issued a stay to her order until Monday, February 9th.
Moore issued his order late Sunday night, writing:
Effective immediately, no probate judge of the state of Alabama nor any agent or employee of any Alabama probate judge shall issue or recognize a marriage license that is inconsistent with (the Alabama Constitution). [citations deleted]
Moore also wrote in his order that if any probate judge, the Governor would be responsible to ensure state law is "faithfully executed:
Should any Probate Judge of this state fail to follow the Constitution and statutes of Alabama as stated, it would be the responsibility of the Chief Executive Officer of the State of Alabama, Governor Robert Bentley, in whom the Constitution vests "the supreme executive power of this state" to ensure the execution of the law. "The Governor shall take care that the laws be faithfully executed. If the governor's 'supreme executive power' means anything, it means that when the governor makes a determination that the laws are not being faithfully executed, he can act using the legal means that are at his disposal."
However, as MediaMatters reported last week,
While it may be true that the U.S. Constitution doesn't explicitly define marriage — although it has been long-recognized as a fundamental right — there is something in there about "equal protection under the law." This clause of the Fourteenth Amendment (that is clearly "in the United States Constitution") is what the federal judge in Alabama and others across the country relied on to affirm a constitutional protection for marriage equality.
MediaMatters goes on to report that "the ability of federal courts to block improper state action and laws" was "settled by the Supreme Court the last time the southern states refused to heed a federal civil rights decision. In 1958, the Court unanimously held that it was unconstitutional for Arkansas state officials to resist school desegregation orders."
In that case, Cooper v. Aaron, the Supreme Court held that:
In short, the constitutional rights of children not to be discriminated against in school admission on grounds of race or color declared by this Court in the Brown case can neither be nullified openly and directly by state legislators or state executive or judicial officers nor nullified indirectly by them through evasive schemes for segregation whether attempted "ingeniously or ingenuously"…It follows that the interpretation of the Fourteenth Amendment enunciated by this Court in the Brown case is the supreme law of the land, and Art. VI of the Constitution makes it of binding effect on the States "any Thing in the Constitution or Laws of any State to the Contrary notwithstanding." Every state legislator and executive and judicial officer is solemnly committed by oath taken pursuant to Art. VI, cl. 3 "to support this Constitution." Chief Justice Taney, speaking for a unanimous Court in 1859, said that this requirement reflected the framers' "anxiety to preserve it [the Constitution] in full force, in all its powers, and to guard against resistance to or evasion of its authority, on the part of a State[.]" No state legislator or executive or judicial officer can war against the Constitution without violating his undertaking to support it. [emphasis added]

NOTE: It is still early in Alabama and we will be updating this story as events unfold.
UPDATE, February 09, 2015 at 11:00 AM EST:
A same-sex wedding about to begin in Birmingham. pic.twitter.com/OyGeB74xqk

— Alan Blinder (@alanblinder) February 9, 2015
(Visited 25 times, 1 visits today)