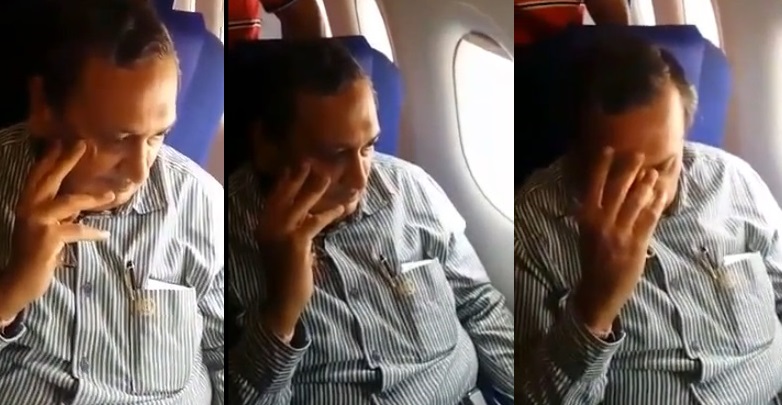 A young woman on an IndiGo flight alleges she was molested by a male passenger. She decided to confront the man and recorded the incident and used social media to out him.
The first video shows the man trying to hide his face while she speaks to him:
"You're asking for forgiveness. Why? Because I'm a girl? And you have right to touch me any time, anywhere you want to," she tells the man in front of the other passengers.
"I'm asking for forgiveness," he says.
"What forgiveness are you asking for? Did you do it only once? Was it by mistake?"
She later says that she will call security and make a complaint.
"I'm sorry about it. Please stop it," the man begs.
"Why? Why, please? I'm sorry, please. I'm sorry that I'm a girl!"
When the plane landed, the young woman confronted the man again at Bhubaneswar Airport and was able to make him admit he made a mistake.
"I made a mistake. I made a mistake. I made a mistake, madam, I made a mistake. Everybody makes mistakes in life. I made a mistake. It's a big mistake," he tells her over and over and over.
The young woman writes: "This man on the seat behind mine, put his fingers in the seat gap to touch me!
"I was very shocked for sometime to react. By then the flight went to landing mode. Then the moment flight touched down, I got up. Saw his hand was again on the side ready to take up any opportunity to touch me!!!
"Can't believe the ordeal I had to go through but being silent is a crime! The police officer was very helpful and the Indigo staff remained with me throughout. The man is under police custody currently.
"I created such a scene, humiliated him in front of the whole flight! He thought like usual girls will keep quiet and he can get away with this! I have lodged an FIR now!'
Please take a moment and Like Kimberley A. Johnson on Facebook.

(Visited 157 times, 1 visits today)