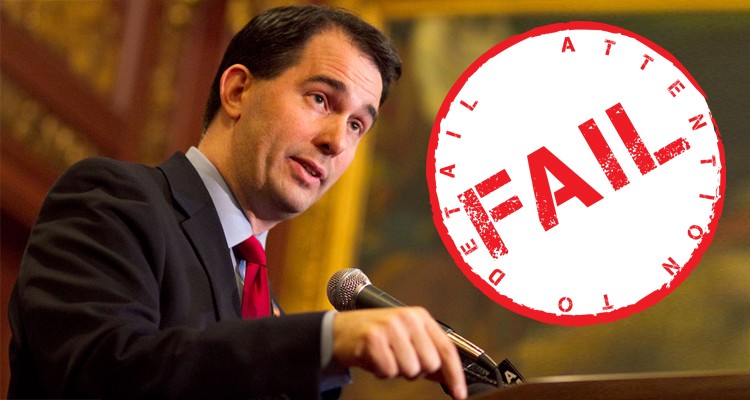 Wisconsin governor and GOP presidential hopeful Scott Walker is stirring up controversy over his refusal to answer questions regarding President Obama.
At issue are remarks made last week by former New York Mayor Rudolph Giuliani who questioned whether Obama loves America.
As NBC News reported that Walker "has been repeatedly asked questions about Obama's personal believes" and "has refused to say if the president loves America or is a Christian."
As a result of his non-answers, Walker has come under fire from conservatives.
NBC News reported that:
"Good politicians can answer them effectively," wrote conservative columnist Matt Lewis in the Daily Beast on Saturday, referring to such controversial questions. "Conservatives should be worried that Walker hasn't proven capable of navigating these land mines."

[…]

"Republicans who question President Obama's patriotism and his Christian faith, or who leave question marks around it, are in my judgment acting in ways that are wrong and unwise," said Pete Wehner, who a top policy adviser in George W. Bush's administration and a senior adviser to Mitt Romney's 2012 campaign. "Wrong because it's inappropriate and pulls our politics down and unwise because it's easy to underestimate how much this kind of stuff and all the debate surrounding it, hurts the Republican Party."
Scott Walker`s Non-Answers
Walker told The Associated Press that he didn't know where Obama loves America, stating: "You should ask the president what he thinks about America. I've never asked him, so I don't know."
He told the Milwaukee Journal essentially the same thing, remarking:
I assume most people in this country love America. And to me I don't think it's worth getting into the battle over whether he does or he doesn't. He can handle that himself. I know I do. And I know there are great people in this country who love this country and who … feel this country's exceptional and it doesn't necessarily align by party. I think there are Republicans and Democrats and plenty of people in between. I've never asked the President so I don't really know what his opinions are on that one way or another.
Asked whether he thought Giuliani crossed a line by accusing Obama of not loving America, Walker answered "no," adding: "I've said repeatedly that (Giuliani) can speak for himself. The president can defend that."
Walker sidestepped a question about whether Obama is a Christian the next day with The Washington Post, saying: "I've actually never talked about it or I haven't read about that."
Of course, that sentiment overlooks the fact that Obama has repeatedly said that he is a Christian and that he loves America.
Other GOP Presidential Hopefuls Respond:
On the other hand, Sen. Marco Rubio (R-FL) said that there's "no doubt" Obama loves America, adding that "I just think his policies are bad for our nation."
CBS News reports that Sen. Rand Paul (R-KY) didn't hesitate to condemn Giuliani's comments in an interview with a local Louisville television station. "I've challenged [Mr. Obama's] policies," Paul said. "It's a mistake to question people's motives."
Former Texas Gov. Rick Perry (R) stated that: "I think the president in his mind loves this country, but his policies, and what his policies are doing to this country, is my concern."
CBS News added that "A spokesperson for former Florida Gov. Jeb Bush, who leads the GOP 2016 pack according to a recent CBS News poll, remarked that Bush does not question the president's motives."
Even Gov. Bobby Jindal (R-LA) released a statement in which he refused to criticize Giuliani, writing: "If you are looking for someone to condemn the mayor, look elsewhere."
(Visited 28 times, 1 visits today)