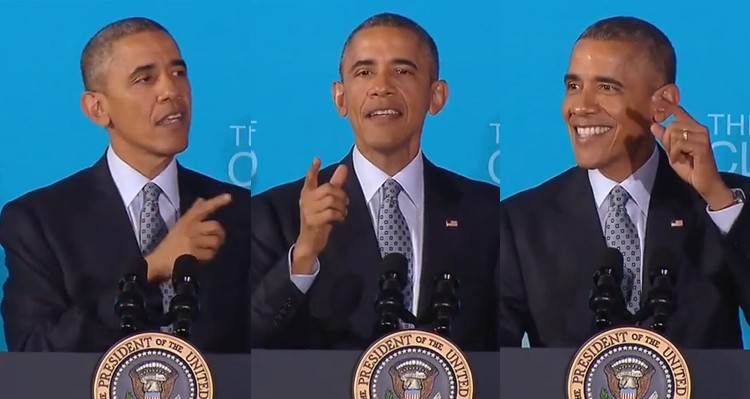 President Obama took a "well-deserved victory lap" on Wednesday while speaking in Ohio at the City Club of Cleveland.
As John Cassidy of The New Yorker wrote, "let's be up front about this, he sounded a little cocky. … He had some fun at the expense of his Republican critics and their alarmist predictions about the disastrous impact his policies would have on the U.S. economy."
The President began by boasting of his administration's accomplishments regarding jobs and unemployment:
Following the worst economic crisis since the Great Depression … we're now in the midst of the longest streak of private sector job growth on record:  60 consecutive months, five straight years, 12 million new jobs.

America's businesses have added more than 200,000 jobs each month for 12 straight months.  That's the first time that's happened in nearly 40 years.  Our unemployment rate has fallen from a peak of 10 percent in 2009.  When I first came into office, we were losing jobs at a pace of almost 800,000 jobs per month; today the unemployment rate is at 5.5 percent.  Just last year we saw the fastest unemployment rate decline in 30 years.  And in one of the most hopeful signs, middle-class wages are finally starting to tick up again, finally starting to go up.

Now, this progress is no accident.  First and foremost, it's the direct result of you, the drive and determination of the American people.  But I'm going to take a little credit.  (Laughter and applause.)  It's also the result of decisions made by my administration, in partnership with some of these members of Congress who are here, to prevent a second depression, and to lay a new foundation for growth and prosperity.  And a lot of those decisions were controversial.  And there was a lot of resistance and obstruction.  But we decided to continue to advance.

We believe that if the last decade was defined by outsourcing of good jobs overseas then we could define this decade by bringing back good jobs to America.  And today there are more job openings in the United States than at any time since 2001.  The auto industry that we rescued, despite the fact that it was not popular at the time, is firing on all cylinders.  That's making a difference right here in Ohio.

Factories are opening their doors at the fastest pace in nearly two decades.  Over the last five years, manufacturers have added jobs at a rate not seen since the 1980s.
Next, Obama stressed the success of his administration in pursuing alternate energy resources:
We believed we could grow the economy and create new jobs even while we were reducing our dependence on foreign oil, and even as we were tackling climate change and protecting our planet. Today America's not just number one in oil and gas. We're number one in wind power. Last year was the biggest year for solar power in our history. We're producing three times as much wind power and 10 times as much solar power as we did when I came into office. (Applause.)

Every three weeks we produce as much solar power as we did in all of 2008. And just last month, the world's largest solar installation came online in the California desert. The solar industry is adding jobs 10 times faster than the rest of the economy. And meanwhile, thanks to lower gas prices and higher fuel standards, the typical family this year should save more than 700 bucks at the pump.
Obama then talked briefly about the success of Obamacare:
Oh, and by the way, there's this thing called the Affordable Care Act. More than 16 million more Americans have gained the security of health care coverage. (Applause.) We've cut the ranks of the uninsured by a third, thanks to some tough, proud votes by these members of Congress. Last year the growth in health care premium costs for business matched its lowest level on record. If premiums had kept on growing over the last four years at the rate they had in the previous decade, the average family premium would be $1,800 higher than it is today.

Now, we don't get a lot of credit for that. But keep in mind that some of the reforms that we're putting in place are not only giving more people insurance, but we're actually reducing the overall costs — $1,800 in people's pockets. They don't notice it because it's what didn't happen. That's $1,800 that firms can use to hire and invest; $1,800 that you're spending on a computer for your kids, or to help pay down debt and stabilize your finances or put into retirement.
Obama also took on Republican predictions of gloom and doom and their attacks on his administration:
Now, I want to return to the issue of the debate that we were having then because it bears on the debate we're having now. It's important to note that at every step that we've taken over the past six years we were told our goals were misguided; they were too ambitious; that my administration's policies would crush jobs and explode deficits, and destroy the economy forever. Remember that? Because sometimes we don't do the instant replay, we don't run the tape back, and then we end up having the same argument going forward.

One Republican in Congress warned our policies would diminish employment and diminish stock prices. Diminish stock prices. (Laughter.) The stock market has doubled since I came into office. Corporate profits are — corporate balance sheets are stronger than they have ever been — because of my terrible business policies. (Laughter.)

One Republican senator claimed we faced trillion-dollar deficits as far as the eye can see. Another predicted my reelection would spike gas prices to $6.60 a gallon. (Laughter.) I don't know how he came up with that figure — $6.60. (Laughter.) My opponent in that last election pledged that he could bring down the unemployment rate to 6 percent by 2016 — next year — at the end of next year. It's 5.5 now. (Applause.)
(Visited 40 times, 1 visits today)