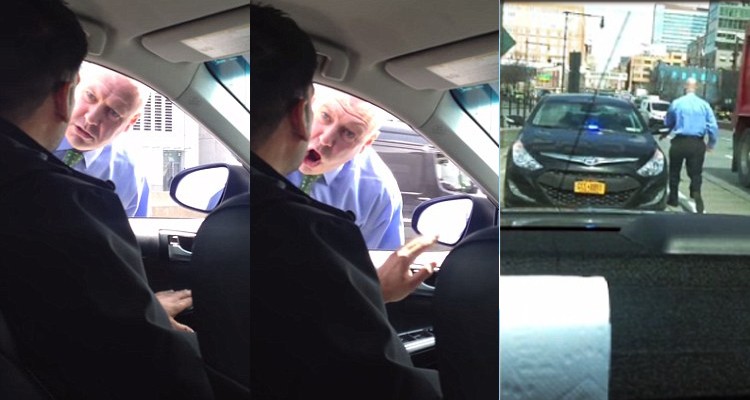 UPDATE: 01APR15, 2pm EST: NBC News reports that Detective Patrick Cherry has surrendered has badge and gun and has been places on modified duty pending the outcome of the investigation.
The New York Police Department confirmed late Tuesday afternoon that the Civilian Complaint Review Board has taken over the investigation into a video showing a police officer verbally abusing an Uber driver in a degrading roadside tirade in the West Village Monday.
One of the passengers, Sanjay Seth, posted a video of the incident on several of his social media accounts.
On his Facebook page, he wrote a post entitled: "Police Abuse of Uber Driver in New York City."
"Our Uber driver, Humayun, was abused by a police officer today in New York," Seth wrote, adding: "The unending rage, door slamming, throwing items into the car, threatening arrest without cause was bad enough – but the officer's remarks at the end really took it to another level."
Seth elaborated on his YouTube post, entitled "Police Abuse of Uber Driver in New York City," writing:
Police abuse of Uber driver in New York City. In an unmarked car, the policeman was allegedly attempting to park without using his blinker at a green light. (His reverse lights weren't on. Likely double parked without hazards on.) The Uber driver pulled around and gestured that he should use his blinker, casually and non-offensively, and kept driving us. The policeman quickly pulls up behind us and this is what happens.

(This occurred just before 2pm on the West side of Manhattan, in police precinct 6, on March 30th, 2015. The officer did not identify himself, but he had a New York license plate: GSS 8891)
The New York Daily News reported  that police sources confirmed on Tuesday that the man caught on camera cursing out the Uber driver in the 3-minute tirade is an "NYPD detective in the joint terrorism task force," Detective Patrick Cherry.
In the clip, below, Cherry can be heard saying:
Stop it with your mouth, stop it with your, "for what, sir." [epithet] Stop it with that … and realize the three vehicle and traffic law violations you committed.

You understand me? I don't know what [epithet] planet you think you're on right now.
Cherry continues his rant, yelling:
I don't know where you're coming from or where you think you're appropriate in doing that. That's not the way it works. How long have you been in this country? …
I got news for you and use this lesson: Don't ever do that again. The only reason you're not in handcuffs going to jail and getting summonses in the precinct is because I have things to do.

That's the only reason that's not happening, because this isn't important enough to me, you're not important enough.
Cherry can also be seen and heard pounding on the hood of the car and tossing items into the car.
NBC 4 New York, contacted Uber who called Cherry's behavior in the video "wrong" and "unacceptable," adding:
We are in touch with our driver-partner who was subjected to this terrible experience and will continue to provide any support he needs.
You can watch the exchange, below:
(Visited 39 times, 1 visits today)