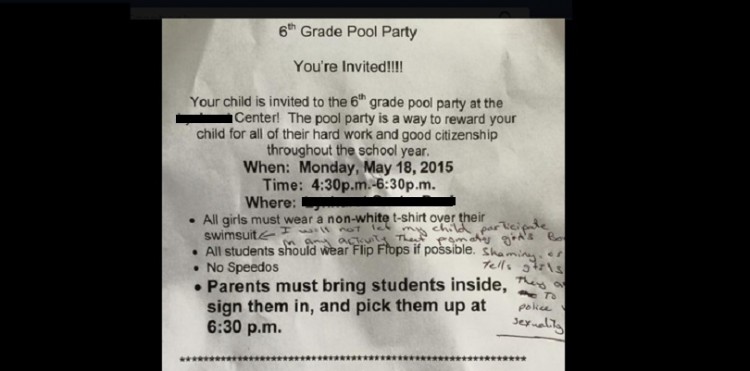 This photo was posted in a Facebook group by a mom and it's attracted a lot of discussion. It's a permission slip her son brought home for a pool party for children in the 6th grade.
Among some of the requirements to attend are two dress codes:
"All girls must wear a non-white t-shirt over their swimsuit."
"No Speedos."
You can see the mom who posted this wrote a note on the permission slip that read in part:
"I will not let my child participate in any activity that promotes body shaming . . ."
She wrote some more although it appears to be cut off, but it had to do with "policing sexuality."
As you can see, the dress code doesn't single out girls. Boys who might enjoy wearing Speedos are shamed as well. We often see articles that single out girls who are kicked out of prom or other school activities because their attire does not meet the imposed sexist standards set by school administrators. We've even seen these ridiculous standards for children as young as five and six years old.
The mother who posted this contacted the principal with concern. The principal responded and explained that t-shirts were required because school policy doesn't allow girls to wear bikinis – and that sometimes the bikinis are "very inappropriate." A t-shirt would serve to cover up offenders, as well as make it more difficult for children to tease someone who choose to wear a shirt over their swimsuit. The principal did not address boys wearing Speedos.
The discussion on the Facebook thread is very long and very interesting and there are many points of view. Some were outraged and disgusted by the dress code. Others offered some advice.
Here's one of the Facebook comments that sparked even more debate on the thread:
I'll just say this. As a middle school teacher… public schools (and I am not sure this is one but I teach at one) are not the most appropriate places for ALL lessons. I am 100% a feminist… but I also know that there are some lessons I can NOT teach in school for many reasons. For me ( a feminist mother) I don't see this as shaming. I see this as a way for teachers to try to reign in the abuse boys will inflict and I (as a woman and teacher) may not be able to address or protect them from. It's complicated and difficult but at the end of the day kids do things to other kids that are cruel and out of my earshot and eyesight and if I can pre-empt any of those abuses then I will. So, yes I do understand why teachers would suggest that middle school girls not wear clothes that will potentially draw attentions and actions that a teacher may not be able to stop and I do not think that this is necessarily shaming."
Another commenter then replied:
If the school truly believe boys can't control themselves around bathing suits a pool party was a horrible choice.

Girls are being punished for boy's behavior and women are actually approving of this?"
Liberals Unite contacted the principal's office to request a statement and has not received a reply. I am choosing not to disclose the name of the school, the principal or the location of the pool party because this IS the Internet and children are involved. The mother who posted this is working on changing the mandate.
Please take a moment and Like Kimberley A. Johnson on Facebook.

(Visited 119 times, 5 visits today)