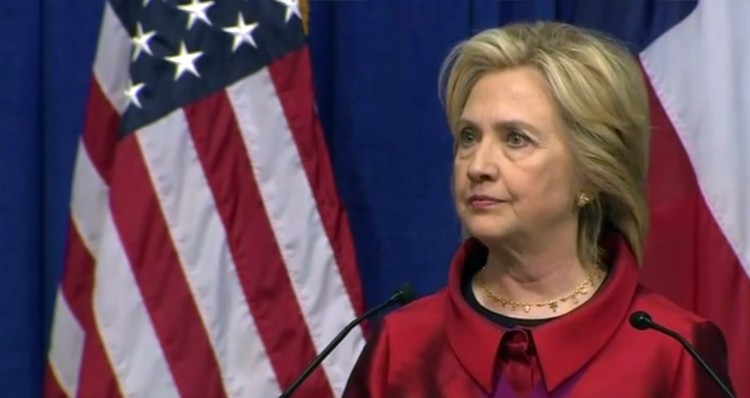 Democratic presidential hopeful Hillary Clinton is taking off the gloves, calling out her Republican counterparts for their efforts at voter suppression during a speech in Texas last week.
During a speech at Texas Southern University in Houston, Clinton accused several Republican governors of "a crusade against voting rights," stating that "Republicans are systematically and deliberately trying to stop millions of American citizens from voting. What part of democracy are they afraid of?"
Clinton also called for sweeping expansion of national voter access laws "while decrying Republican efforts to restrict them. The latest in her long history of fighting to expand voting rights, she called for universal, automatic voter registration for every American in every state when they turn 18. She called for a new national standard of no fewer than 20 days of early in-person voting in every state, including opportunities for weekend and evening voting. And she urged Congress to restore key sections of the Voting Rights Act, which the Supreme Court invalidated."
Clinton also called out several Republican presidential hopefuls by name for their record on voting rights:
Here in Texas, former Governor Rick Perry signed a law that a federal court said was actually written with the purpose of discriminating against minority voters. He applauded when the Voting Rights Act was gutted, and said the lost protections were "outdated and unnecessary."

But Governor Perry is hardly alone in his crusade against voting rights.

In Wisconsin, Governor Scott Walker cut back early voting and signed legislation that would make it harder for college students to vote.

In New Jersey, Governor Christie vetoed legislation to extend early voting.

And in Florida, when Jeb Bush was governor, state authorities conducted a deeply flawed purge of voters before the presidential election in 2000.

Thankfully in 2004 a plan to purge even more voters was headed off.
She concluded her speech stating that: "We owe it to our children and grandchildren to fight just as hard as those who came before us did. To march just as far. To organize just as well. To speak out just as loudly. And to vote, every chance we get for the kind of future we want," giving a shout out to
(Visited 23 times, 1 visits today)