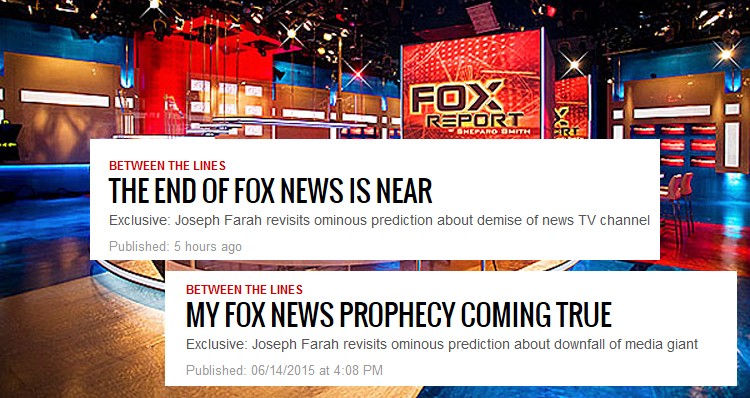 In a startling new article, the ultra-conservative website, World Net Daily (WND) predicts the end of Fox News saying they give the network "a year at most."
To put this in perspective, consider that whacked out racist gun-nut Ted Nugent is a frequent contributor, as is anti-feminist Phylis Schaffly as well as other social conservative authors such as Pat Buchanan, Ann Coulter, Bill O'Reilly, and Chuck Norris.
Joseph Farah, the founder editor and CEO of WND, has been predicting the end of Fox News for a couple of years now, claiming that
although Fox offered points of view and reporting that so-called "mainstream" news outlets avoided, things would be changing in the future. I offered that only two people, then both in their 80s, were totally responsible for the Fox's different approach to covering the news and that when they inevitably moved on in the next five years, the "fair and balanced" channel would morph into becoming more like CNN.1
Those two men were Rupert Murdoch, the chief executive officer of 21st Century Fox, and Roger Ailes, president of Fox News and chairman of the Fox Television Stations Group.
As Liberals Unite reported a couple of weeks ago, Murdoch is preparing to begin relinquishing control of his media empire. Murdoch will step down as CEO of 21st Century Fox, which includes cable, film, and satellite television properties, either this year or the next according to The Wall Street Journal.
This is where Farah's most recent coverage of the end of Fox News begins. He reported on Sunday that:
Ailes quickly informed anyone who would listen that he would continue to report only to Rupert Murdoch during this transition. Since then, he has been repudiated by a public announcement that all executives would report to Murdoch's kids, who are taking over for their father.
Speaking of the Murdoch sons, Farah writes:
One of those sons, James, was publicly characterized as a "f—— dope" by Ailes. The other, Lachlan, was previously fired by Ailes.

There's been no public comment by Ailes since the latest announcement.

Ailes' contract is running out. It will not likely be renewed.
He then goes on to make the following prediction regarding the future of Fox News:
That will leave the fate of Fox News to the Murdoch children who have no use for it. They don't care how much money it makes. They are embarrassed by it. Raised with silver spoons in their mouths, it's not about the money. It's about politics and social acceptance. They care more about being invited to the right cocktail parties in New York than they do about the ratings and financial success of Fox News. Much more.

So now begins the death march for FNC.
And Farah offers the following warnings:
Give it a year at most.
Watch for the changes made in the programming.
Watch for the departures of key personalities.
Watch the glee of Fox News haters.
It's all lining up just as I saw it coming five years ago.
He concludes his obituary for Fox News, writing that the network failed to live up to its potential:
Fox News Channel never quite lived up to its potential – because of sacred cows, competing corporate interests and general self-consciousness about being part of the "mainstream." But it would be a mistake to underestimate what it demonstrated in its successes about the failings of the rest of the media.
---
FOOTNOTE 1: This quote was taken from an interview at the Prophecy Summit at Pikes Peak, July 26-28, 2013. You can go here to listen to the relevant portion (14:32 through 15:55) of the interview:
TRANSCRIPT:
I have to tell you…this may be a little controversial, but I believe, a lot of people look at Fox News as, you know, their alternative choice for TV and I think Fox has a lot of limitations and I am not particularly excited about it but one thing I do know is that whatever it is doing well right now it is not going to continue doing well into the future because it depends on two human beings who are both in their 80's, Roger Ailes and Rupert Murdoch, they're not going to be around forever and when they leave, inertia, that is very familiar to me from my many years in the main stream media, will take Fox News right where CNN is and the New York Times and everybody else. And the children, the Murdoch children, have said they can't wait to make Fox News more like CNN. Now why would you want to make the successful Fox News more like the unsuccessful CNN? Because, you get invited to better cocktail parties in Manhattan when you do that – it's that simple. So we want to be there with a video alternative – a TV alternative – when Fox News inevitably implodes. It's that simple.
(Visited 214 times, 1 visits today)