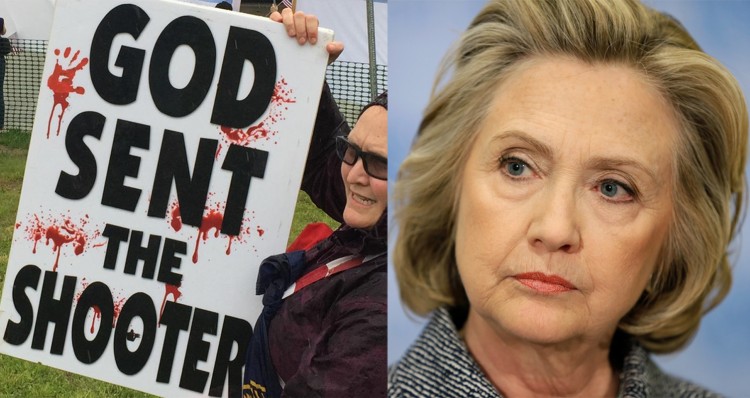 "Arguably the most obnoxious and rabid hate group in America," the Westboro Baptist Church is at it again – threatening to picket the funerals of the victims of the Charleston church shooting on June 17, resulting in the death of nine individuals.
In and of itself, that fact is of no great surprise. They planned to picket Star Trek actor Leonard Nimoy's funeral early this year and have met wide spread and effective resistance when picketing other tragedies over the years, such as the time they were run out of Moore, Oklahoma, after hundreds of local residents showed up in the rain to counter-protest the Westboro Baptist Church claiming the tornado there was the result of God's hate. Their efforts to picket funerals after other tragedies have been thwarted by members of the Ku Klux Klan, a Texas sheriff, the activist group Anonymous, and bikers on at least two occasions – the first time after the Sandy Hook tragedy and six months later at the funeral of a nine-year-old in a tornado in Oklahoma.
In the wake of the Charleston tragedy, the church is blaming both Hillary Clinton and her campaign. The first salvo occurred on the church's official Twitter page when they lashed out at Clementa Pinckney, the South Carolina state senator who was one of nine people killed in the Charleston church, tweeting:
Dead SC preacher did what lying preachers do: gave pulpit support 2 lying politician (@HillaryClinton) sin-campaign.
A few hours later, they tweeted:
Lessons from #CharlestonShooting:
•Stay away from @HillaryClinton fundraisers
•Stop conducting lying Bible studies
They followed that up with another attack on Pinckney, tweeting:
#ClementaPinckney gave pulpit support to @HillaryClinton sin-campaign & thought God'd not avenge His name? Foolish!
And just in case you weren't convinced that the people at the Westboro Baptist Church don't like Clinton, they tweeted a photo of "a 1992 flier announcing Westboro Baptist Church's picket of @HillaryClinton" for #ThrowbackThursday
Another of their Twitter accounts, Brotherly Love @WBCElect, was more direct, tweeting:
Blood of #CharlestonShooting dead is on @HillaryClinton's hands. Get some signs and picket the funerals! #WarnLiving.
You can check out screen captures of their tweets in the slideshow, below:
This slideshow requires JavaScript.
(Visited 157 times, 1 visits today)