Described by The Nation as "An inspiring grassroots movement [that] is fighting back against the GOP's outrageous budget cuts and attacks on democracy," the Moral Monday movement started in April 2013, with a few folks protesting, and has grown to tens of thousands.
As part of the ongoing struggle against North Carolina's attacks on democracy, Moral Monday founder Rev. Dr. William Barber II, along with Forward Together and the NC NAACP, filed a federal lawsuit to reverse North Carolina's unconstitutional voter suppression law entitled North Carolina NAACP v. McCrory.
The North Carolina NAACP, along with Moral Monday, has scheduled a Mass Moral Monday March to be held July 13, 2015:
On July 13, a federal court in Winston-Salem will hear North Carolina NAACP v. McCrory, our lawsuit to reverse North Carolina's unconstitutional and immoral voter suppression law. North Carolina's law is the first and the worst since the 2013 Shelby v. Holder decision that gutted the Voting Rights Act of 1965. Our voting rights, gained because people stood up despite great consequences in Selma and across the South, have been compromised. Now we must march!

The outcome of this historic case in North Carolina will have an impact on voting rights across the nation. This is a battle for voting rights for all of us. We will not surrender the most fundamental right of a democracy: the right to vote.  Just like in Selma, we must march!

Join us in Winston-Salem on July 13 at 5:00 p.m. for a Mass Moral Monday March for Voting Rights.

This is Our Selma!
You can check out the official event notice from the official North Carolina NAACP Facebook page, followed by a video detailing why you should march.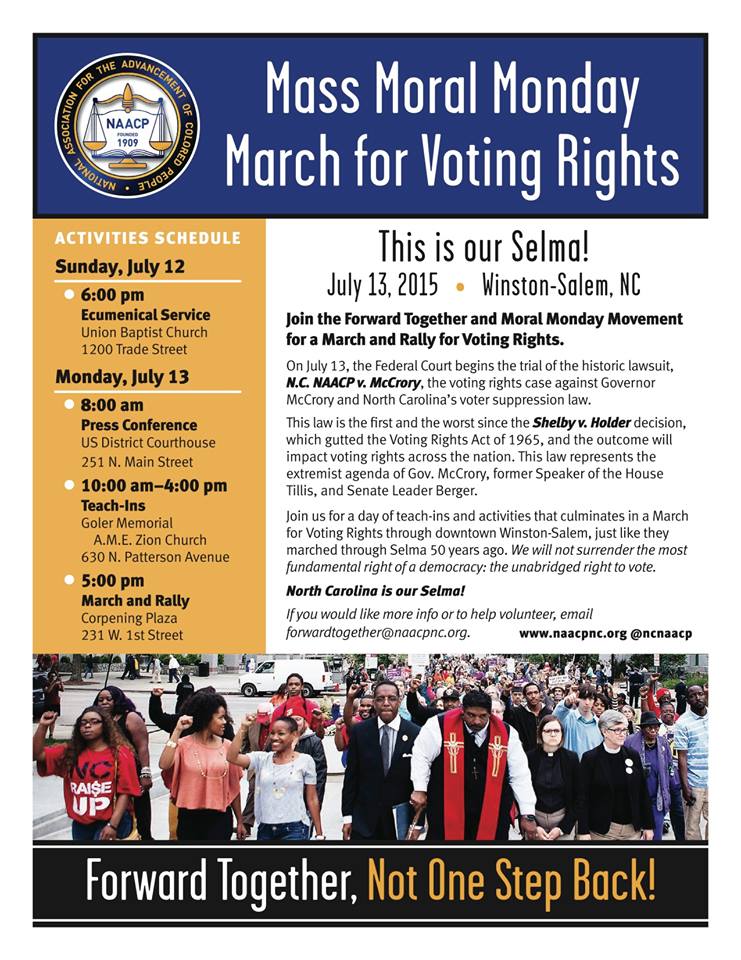 **Mass Moral Monday March for Voting Rights LiveStream Information**
https://livestream.com/accounts/5188266

Fusion Films will be LiveStreaming all the events for the Mass Moral March for Voting Rights in Winston-Salem, North Carolina starting with the Worship Service on Sunday, July 12th at 6pm – through the Monday 8am Press Conference and day-long teach-ins – then ending with the historic march and rally starting at 5pm. To get notifications of when these Streams are live, click on the link below and then click the green "Follow" button. If you can't be there fore this historic event, witnessing it via LiveStream is the next best thing!
"This Is Our Selma!" | Why You Should March on July 13th
by NC Forward Together Moral Movement Channel
(Visited 30 times, 1 visits today)